Day Of The Pony or TWO REVIEWS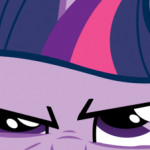 This will make sense if you watched the Day of the Doctor
Gentle Readers,
This contains spoilers, but as it is after the 48 hour embargo period, Dr. J. decided to start off with spoiler free reviews then delve into spoilerriffic opining.
First, lets start off with My Little Pony- Friendship is Magic. The Lil Resident and the Lil Medstudent both gave it two thumbs up. The long and short of it is that there is a plot that threatens Equestria, in that the Tree of Harmony, from which the Elements of Harmony were taken by Princess Celestia to bind the chaotic Discord (think Loki figure) and then her sister Princess Luna is threatened by nigh sentient vines. To add to the trouble, Princess Celestia and Luna disappear. Princess Twilight has to assemble the team, bust out the Elements of Harmony and open a can of harmony whupass on the the vines and save the tree and find the missing Princesses.
Dr. J. will be honest, he tuned in and out as he had far better things to do than spend 45 minutes watching MLP, but it had a lot of features of a good story, flashbacks which gave a lot of backstory to the mythology of Ponyville, some of it transformative, changing the rules of the game. The two-parter set up the fourth season sending it in a new direction in the form of a quest for your favorite ponies. Dr. J. loves him a good story arc.
It also gave Dr. J. pause in that the seemingly benign leader, Princess Celestia has been quite willing to swiftly and brutally punish those who oppose her benign reign. She originally petrified Discord for the chaos he created in her kingdom and originally banished her sister to the moon when she attempted a coup-de-êtat. Dr. J. now understands why everyone is so deferential to her.
Yeah, Dr. J. about lost his shit at this point in the show.
Now, moving on to The Day of the Doctor, the 50th anniversary special…
Dr. J. loved, loved, loved it. But he is a touch of the Doctor Who fanboy, so you should have expected that.
As far as stories themselves go, this was a very good one, given that it was only 75 minutes long. Dr. J. wishes it was longer, however, he takes what he gets. The primary plot, the one involving the Zygons involves two time periods, the Elizabethan and Modern eras. The Zygons, as villains, came across as more of an individual as opposed to a global threat, but as their strategy involved breaking into UNIT's 'Tardisproof' weapons vault, it seemed credible that a few Zygons could be a big threat, but one that needed to be neutralized in an individual manner.
The Zygon front story could have been more developed but it served more as a platform for giving the Doctors something to do once they've gotten together. The B-Plot regarding the Time War was far more interesting, as was its resolution. As a consequence of all of this there was a major shift in the mythology of the show, done in an entirely respectful and internally consistent way. As a consequence, the Doctor Who has many more miles to go, before it sleeps.
The story was also about repentance, and doing the right thing and failing rather than doing the wrong thing for the right reasons. Washington could learn a lesson from that. Unfortunately there was an inappropriate use of Neville Chamberlain's quote about 'Peace in Our Day' that astounded Dr. J. He got over it, as the rest of the show was darned good.
To top it off, in addition to telling an interesting and paradigm shifting story, there was quite a bit of tightly integrated fan service done. There were 1001 Easter Eggs for fans of old and new Who including more than one jaw dropper.
Read on if you want spoilers…
Dr. J. thought the way that the thirteen (yes, all 13 Doctors) helped to maybe, possibly, save the day was really clever. Also, John Hurt was great reining in Tennant and Smith. They didn't solve the regeneration problem, as the Doctor can only regenerate 12 times. We found out in spoilers for teh Christmas special that because Tennant used a regeneration to pull his ass out of the fire in Journey's End, Matt Smith is out of regenerations. But, Capaldi is coming so something's got to work out at Christmas. Lastly, the idea of a quest to find lost Gallifrey will be great fun, at least for a while and it give Capaldi something different to do next year than save the world from Daleks, Cybermen, more Daleks, the Master, and major ruptures in the space/time continuum not otherwise specified. Just like when Pertwee was trapped on Earth and when Davidson and Baker spent a lot of time in space, this is just another change of pace for the nigh immortal doctor.