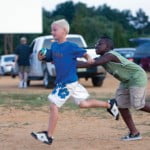 The Czar somehow began sighing halfway through the sentence "There's a problem at recess." The 11-year-old Цесаревич has serious eyes when he said it, but to be realistic most of these problems are two friends squabbling or the weird kid was licking mulch.
What a cliché: Life is like football. But, alas, it really is. But being good at one does not guarantee you can be good at the other. Even so, you can borrow plays.
"What is it?" we asked.
Apparently the problem is football. During recess, a group of the guys like to get together and play touch football. Touch football follows the same rules as tackle football, but instead of tackling the guy with the ball really hard, you simply run up and shove him violently into playground equipment so he gets hurt worse.
The Цесаревич reports that the quarterbacks aren't throwing him the ball very much, even though he's wide open all the time…they keep throwing it to the same two or three kids, even though they're covered.
Are these kids catching the ball? "Yes."
All the time? "Pretty much."
Are you catching the ball? "I know how to catch," he grouses back. Yes, you do. But are you catching it, or is it slipping through your hands? "It slips through a lot."
Okay. The reason they aren't throwing it to you as much is because you keep dropping it. A quarterback has a second to make a decision: he can either throw to the kid who can catch it under cover, or he can throw it to a totally open kid who might drop it. What would you do?
"But I can catch," he protested.
Right, but can you catch under pressure? Throwing a football around the yard is easy because you just stand there. But can you catch when the play is on the line? Can you jump up and grab the ball one-handed? Can you run a pattern and break out of the defense to free yourself up? Can you read the entire field? Because a lot of these kids can.
Then the bombshell: "Shouldn't they give me more chances?"
Sorry, buddy: they did by even letting you play in the first place. They like having you around, but they aren't going to trust you with every play. No one owes you any more chances. No one owes you even one. You need to step up and prove yourself.
"How—when they won't throw me the ball?"
This is the great challenge. You need to prove the team can trust you. Try being a running back: you have quick feet and can push people out of your way. Try intercepting on defense: jump up and snatch a ball from the other quarterback. The thing about football is that, like the rest of life, it will keep giving you opportunities to prove yourself. But like life, no one owes you more chances. You are rare to get even one.
And if it doesn't work out, try using your brain by doing a running play or intercepting one of their passes. But it doesn't stop being like real life even there: you need to decide what to do and how to do it, right there in the huddle. Be quick.
And by the way—don't cop an attitude with your team about this. It isn't just your team. Did you stop to wonder why you are always open? Because the other team has decided you aren't a risk to them. Time to start being a risk to the other side.

Божію Поспѣшествующею Милостію Мы, Дима Грозный Императоръ и Самодержецъ Всероссiйскiй, цѣсарь Московскiй. The Czar was born in the steppes of Russia in 1267, and was cheated out of total control of all Russia upon the death of Boris Mikhailovich, who replaced Alexander Yaroslav Nevsky in 1263. However, in 1283, our Czar was passed over due to a clerical error and the rule of all Russia went to his second cousin Daniil (Даниил Александрович), whom Czar still resents. As a half-hearted apology, the Czar was awarded control over Muscovy, inconveniently located 5,000 miles away just outside Chicago. He now spends his time seething about this and writing about other stuff that bothers him.