My Little Action Figures…Geekdom is Magic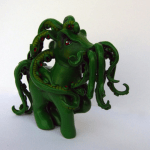 FoG Borepatch linked to this My Little Cthulhu action figure over at Deviant Art created someone by the moniker spippo:
Your Gormogons, as fans of Lovecraft truly appreciate the craftsmanship of this pony. Dr. J. thought he'd share a few of Cthulhu Pony's friends.
My Little Alien:
For the He-Man Bronies out there, My Little Orko:
The Watchmen Vigilante, My Little Rorschach:
And because no League of Extraordinary Ponies is complete without a lady in the bunch, My Little Mexican Communist Artist Frida Kahlo:
Sadly, they left off her 'stache!