In which The Doctor waxes poetic on the Olympics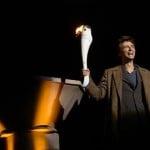 Not that Doctor, Dr. J., and you know how he'll light the torch! ZZZZZZZZAP!
A broken clock is right twice a day and a bat-shit crazy one-world-government progressive type can sure throw a terrific party once every two years. Tonight marks the opening of the 2012 Summer Olympiad in London.
Dr. J. has always loved the olympics. He has fond memories that go all the way back to the Innsbruck and Montreal games in 1976. While it may simply be that Dr. J. misses the Cold War, the Olympic games from 1948-1992 were not only sport theatre, but also political theatre.
Would the forces of liberty triumph over the communist juggernaut, who were at a distinct advantage as their governments would fund athletics as a weapon of propaganda, while America and her allies had to tread carefully as not to damage their best athletes 'amateur status', even unintentionally?
As a viewer, you would be cheering on West Germany, the United Kingdom and our other allies in events where we weren't as strong, and you might even find grudging admiration for an Eastern Bloc athlete whom you hoped would be able to defect to freedom in the west.
The 1992 Olympics marked a clear change. The Berlin Wall fell, and with it Cold War sensibilities. Furthermore, professional athletes in the west joined along side their amateur compatriots. With the breakup of the Soviet Union and the reunification of Germany, the United States developed a strong competitive advantage that it had not previously enjoyed in prior Olympic games. The rivalries and nationalism that were once part of the games is not as strong as it has shifted more towards the individual athletes.
Dr. J. had the privilege of attending the Barcelona games and was richer for the experience. While he had to grab a copy of El Pais to keep up with the previous days events, seeing the Opening and Closing ceremonies live, watching amazing swimming, gymnastics and track and field, and catching the Dream Team decimate Lithuania were once in a lifetime memories. He met a lot of terrific people sitting in the stands with him, cheered on a couple of schoolmates from Ivy University, and even met an athlete or three, including a really cute Swiss pistol shooter when he was out clubbing one night (but he will say no more regarding that).
Also, stronger commercialization of the games along with nigh-monopoly broadcasting rights owned by NBC have resulted in a more homogenized product. Dr. J. longs for the days of Jim McKay in one of those tacky mustard yellow blazers with the ABC Wide World of Sports logo, but instead he has to listen to broadcasters like the perky Katie Couric (who is no longer with NBC) and Matt Lauer try to fill the air with some sort of 'point' when taking in the spectacle would serve so much better. He also doesn't need to know about every athlete being born the son of a sharecropper and having to work two jobs and climb up hill both ways in order to realize his dream of being an olympic shot-putter. Dr. J. wants to see sports, with perhaps the occasional personal interest story, not a 'show' or as they say 'block of programing.'
The internet also has affected the games as now we can get results before they are broadcast, and we can even live stream some events.
So while the Olympics may not have the same grandeur and intrigue as they once did, they still are appointment television for Dr. J., and in his opinion, very entertaining. Dr. J. will be watching them with great excitement alongside the rest of Clan J.
Indeed, Mrs. Dr. J. is lobbying to go to Sochi in 2014, but Dr. J. thinks the kids are too young to appreciate it. And it is a little pricey. Dr. J. feels that we maybe forced to wait until 2020 or 2022 given the venue choices between now and then (Rio 2016 and South Korea 2018) depending on their location.