9-0 – That's got to hurt…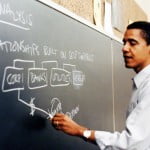 Those are not the three branches you are looking for…
The Supreme Court upheld provision 2B of the Arizona Immigration law 9-0, meaning that Justices Sotomayor, Kagan and Ginsberg found the provision constitutional.
2B is the proviso that reiterates Federal Law saying that an Arizona law enforcement officer can check the immigration status of any individual with whom they make 'lawful contact.'
By way of review, this is what noted constitutional scholar and law school constitutional law instructor, President Obama had to say about the law, a few months back:
But now suddenly if you don't have your papers and you took your kid out to get ice cream, you're going to be harassed, that's something that could potentially happen.
Besides being factually incorrect, regarding 2B, Dr. J. believes if confronted with the wording of the law, which says:
For any lawful contact made by a law enforcement official or agency of this state or a county, city, town or other political subdivision of this state where reasonable suspicion exists that the person is an alien who is unlawfully present in the United States, a reasonable attempt shall be made, when practicable, to determine the immigration status of the person.
…the President would still find determining the immigration status of individuals who are suspected of some form of wrong-doing (be it jay-walking, speeding, or breaking and entering) requiring lawful contact RAAACIST!!!!!lEl@vEN!Y!!!12!!.
The President may have to go back and take a few Constitutional Law classes given the recent spate of decisions not going his way by more than a 5-4 margin.
Here's a survey course for your viewing pleasure, Mr. Obama…
The Preamble:

The Three Branches in Government: