Tragedy in China – A Warning for 'Puter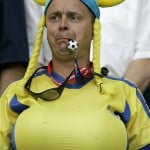 Friends don't let friends watch soccer…
As many of you know, our beloved 'Puter is a soccer fan (or football, as they say across the pond). Indeed, he has been known to go to the local pub for Guinness (It's Good For You!™) and Irish Nachos with his laddies. When it comes to Irish grub, Dr. J. prefers curry chips, shepherds pie, or bangers and mash, but to each his own. However, when it comes to football, he prefers it played by college students who are there for the education, or most definitely not there for the education, and he prefers it played with an oblong ball. Dr. J. is also not a fan of the metric system (except when he uses it at work), nor of Esperanto, but you knew that already.
Enough preamble!
This article
comes from Fox – New York. Apparently, a Chinese soccer fan died after watching the Euro 2012 Cup for 11 days straight.
Consider yourself warned, 'Puter!