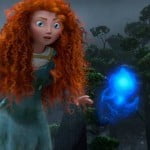 One thing that Dr. J. learned from Dungeon's and Dragons was to stay away from Will-o-the-Wisps
Clan J. went to the moves this evening to take in Pixar's latest, Brave. It was the first non-sequel movie from Pixar since Up, and despite how good Toy Story 3 was; and certainly after the letdown that was Cars 2, Dr. J. welcomed new themes and characters.
Don't read if you don't like SPOILERS!
The story revolves around the relationship between Merida and her mother. They are both very strong willed, and each has a different vision of what Merida's future looks like. Mom expects her to be a prim and proper queen. Merida, on the other hand, is a free spirit and a bit of a tomboy, loving horseback riding and archery.
Much of the story is about their relationship and how a little bit of magic forces it to evolve. It was a well done coming of age story, and certainly different from the Disney Princess formula. The CGI and music were to the usual Pixar standard, and the dad and brothers were hilarious.
Mrs. Dr. J. and the Lil Resident were moved by the mother-daughter relationship and how it evolved over the course of the film. Given that they saw a bit of themselves (a Scorpio raising a Sagittarius, you get the picture).
The Lil Medstudent liked the slapstick elements, and the action. He is, after all, as clever as the three little brothers combined, so he loved their antics and all of the celtic 'yelling at each other.'
What Dr. J. liked best about it was something left out of many of the reviews, and that was the reminder of the notion that women are the drivers of civilization, and as such should be respected and valued. Merida's struggles were a consequence of trying to avoid that role and trying to be a son to her father, so to speak. Her mother's struggle was how to guide Merida to become a woman with out shoehorning her into becoming her mother's clone. Dr. J. believes that that is the challenge every parent faces, realizing our children aren't 'mini-me's.'
While Dr. J. believes that Studio Ghibli (e.g. Ponyo, Kiki's Delivery Service, and The Secret World of Arrietty) does a better and more even job with the 'girl's coming of age story', this still gets two thumbs up from Clan J (that's 8/8 thumbs en toto). and is an above average Pixar outing, so it comes highly recommended.