Anytime the Clintons get into hot water, they defend themselves like a teenager defending themselves when confronted by a parent.  "No, Mom, I said that I was going to be at Kelly's house.  I just didn't say where I was going from there."
We all know the "depends on what your definition of 'is' is."  Mark my words, Hillary and her campaign will hang their hats on the defense that, "[they are] confident that this process will prove that I never sent nor received any e-mail that was marked classified."  My emphasized "marked" is the crucial word.  The problem, however, is going to be her earlier statement in March, "I'm certainly well-aware of the classification requirements and did not send classified material."
As I'll mention below, Mrs. Clinton, like the teenager, knows the rules…and the spirit behind them.  But she wants to do her own thing.  And when she gets caught, much like a teenager would, she will weasel and worm through half-truths, lies of omission, tangents, and tantrums to try to avoid the punishment.  The strong parent will hold fast and issue said punishment.
If Mrs. Clinton is "well-aware of the classification requirements" then she would realize that, in addition to understanding how to handle classified material, including what to do when one thinks they're received classified materials inappropriately (not marked, without proper protection, etc.), she is responsible for marking derivative works appropriately.  Derivative classification is the act of incorporating, paraphrasing, restating, or generating in new form, information that is already classified, and marking the newly developed material consistent with the markings of the source information.
Based on several reports, it appears that Clinton aide, Huma Abedin, has collated materials from several sources and compiled those into emails which likely – either from the sources or by the nature of combining all the information – has created classified material.  If this is the case, at a minimum, Abedin should lose her clearance (if any), and be restricted from handling classified material.  More appropriately, she should be charged with mishandling classified material.
Let me dispel one other attempt by the Clinton camp at reasoning this issue away.  The argument that the emails contained information that was later classified makes little sense.  It would imply to me that whoever originated the email failed to properly classify them.
By the way, this guide is one of the best compilations I've seen regarding classification marking.
Let's not, however, get off the point of this issue facing Hillary Clinton.  There are plenty of side points:
Her story has changed (sorry, "evolved") over the last few months from having "no classified material" to one that she never "sent or received any marked classified material"
Her reasoning behind having a poorly secured email server through which she conducted official State Department business has been weak: "for convenience as I don't want to have multiple devices"…while having multiple devices
Even her commitment to and adamant defending of her turning over all relevant emails to the Senate panel investigating Benghazi…and now it appears she didn't.
The bottom line is that she has demonstrated through her actions – not any explanation, words, etc. – that she is careless and potentially ignorant of the need for proper security protocols and procedures.  For an elected government official, that's concerning.  For a head of a critical government agency like the State Department which handles a lot of sensitive information, that is dangerous.  And for someone who wants to be President, it should be out of the question and the end of her campaign.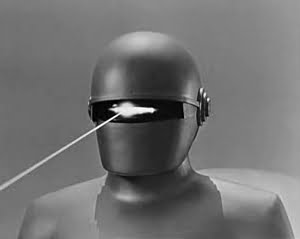 GorT is an eight-foot-tall robot from the 51ˢᵗ Century who routinely time-travels to steal expensive technology from the future and return it to the past for retroinvention. The profits from this pay all the Gormogons' bills, including subsidizing this website. Some of the products he has introduced from the future include oven mitts, the Guinness widget, Oxy-Clean, and Dr. Pepper. Due to his immense cybernetic brain, GorT is able to produce a post in 0.023 seconds and research it in even less time. Only 'Puter spends less time on research. GorT speaks entirely in zeros and ones, but occasionally throws in a ڭ to annoy the Volgi. He is a massive proponent of science, technology, and energy development, and enjoys nothing more than taking the Czar's more interesting scientific theories, going into the past, publishing them as his own, and then returning to take credit for them. He is the only Gormogon who is capable of doing math. Possessed of incredible strength, he understands the awesome responsibility that follows and only uses it to hurt people.