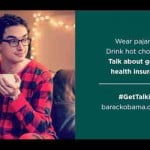 Meet Billy.* Billy is the poster boy for Organizing for Action latest fuck-up-the-holidays-with-political-conversation-that-is-not-welcome-at-the-dinner-table. This risible ad campaign is encouraging its email list to talk up the great success that is Obamacare and the Healthcare.gov website.
Has the president signed up, by the way?
Your Gormogons skewered this back around Thanksgiving when The Czar responded to FoG JAB about OFA's attempt to hijack the opening ceremonies of our holiday season.
When driving back to work from letting Lady J. and Loki J. out at lunch time, Dr. J. even heard Rush get into the act warning, hand Dr. J. thought this was a brilliant point, that as laughable as this crap is, women took Julia seriously and her message resonated with Democrat women, so be cautious with the latest.
Nevertheless, our friend at NRO, Charles C. W. Cooke, lights up Billy's Christmas tree:
No, there is not. But then what did you expect? OFA, and its various offshoots, are staffed by third-growth McGovernites who have come of age at the exact point that the radicalism of the 1960s finally won out. As David Burge of "Iowahawk" fame likes to joke, perhaps it wasn't "a good idea to turn the most successful country in the history of the world over to the grievance faculty at Harvard." Still, that is what we have done. And we have ended up with a parade of over-educated and under-experienced perpetual children who don't think twice before dressing a grown man up in footie pajamas.
In Brideshead Revisited, after Sebastian Flyte is repeatedly upbraided by the Oxford faculty for drinking too much and doing too little work, he asks Charles Ryder what one is expected to do instead. "How does one mend one's ways?" he inquires:
"I suppose one joins the League of Nations Union, and reads the Isis every week, and drinks coffee in the morning at the Cadena café and smokes a great pipe and plays hockey and goes out to tea on Boar's Hill and to lectures at Keble, and rides a bicycle with a little tray full of note-books and drinks cocoa in the evening and discusses sex seriously."
Times have changed, of course. The League of Nations Union is now the Queer Students Assocation. Sebastian's proposed discussion of sex would today be replaced by a "dialogue" about the evils of "heteronormativity" or "micro-aggressions," the pressing necessity of "safe spaces," and the vital importance of whatever other buzzwords the comically hopeless liberal-arts students at Oberlin, Hampshire, and Brown are talking about these days. And smoking, being bad for you, certainly wouldn't appeal. But the archetype of the goody-goody remains, right down to the drinking cocoa. Put a bunch of these people in a room with a few MacBook Airs and a shared copy of Adobe Photoshop, and this is the character they come up with by themselves. Because Pajama Boy is OFA; and OFA is Pajama Boy. The vaguely androgynous, student-glasses-wearing, Williamsburg hipster isn't a clever marketing idea. It is the id of the Obama machine made public. Of course he's made it onto the propaganda.
Now what cracks Dr. J. up is that there are three (wait, four, no five) options for members of Team Millenial who are not offered employer based health insurance:
Get a different job, easier said than done.
If they're under 26, pay mom and dad the difference to stay on theirs for now, though hell, the Lil Resident and Medstudent will be kicked off the Country Club rolls before they're ineligible for mom and dad's health insurance.
Beg mom and dad to pay the difference to stay on mom and dad's health insurance.
Pay the fine
Buy a plan via Obamacare.
The problem is that the dude pictured looks 12 and is wearing footie pajamas. Odds are he's going to be talking up 3, or even looking to see if they'll spring for 5, and ultimately 4, if it costs them less, allowing him to keep the subsidy so he can use it towards Call of Duty VI – Scourge of Ponyville.
Black Ops are Magic
Nevertheless, Christmas is time for family and basking in the love and joy of our Saviour's birth, and for fragging your kid on CoD:Ghosts with an RPG (can't frickin' wait). We must be cautious, however, as Julia, despite the mocking had a little traction. Oh, and friends don't let friends wear footie pajamas.
* Billy is Julia's brother, because, well, in our family, Billy IS Julia's brother!