The Czar Explains Light Bulbs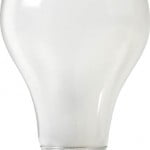 After a few years of grousing about a portion—only a portion—of President Obama's daily mistakes, we cannot overlook that President Bush had a doozy as well. You know what this is about: the incandescent lightbulb ban.
The problem about the lightbulb ban is that just about everybody has heard some goofy, cockamamie story about why it happened. No, wait—the problem is that every one of those stories is freaking true. Some buddy of his was a lobbyist for a lightbulb manufacturer in China, and got the President to phase out incandescent bulbs by 2014. The problem is that there were almost no serious manufacturers of any non-incandescent lightbulbs here in the States—they were pretty much all made in China. And the replacement candidates, including CFLs, have dangerous amounts of mercury in them, and yes, they don't last nearly as long as they're supposed to because they are made in China out of bad parts.
Actually, though, all this is changing. American manufacturers are ramping up, and the Czar is using the newer bulbs wherever he can. But he learned a few tricks along the way:
Buy only 1 or 2 bulbs per pack and try it out first. Some are just not bright enough. Some, especially the compact fluorescents, flicker when you turn them on. If the bulb sucks, don't buy it again. If you find a type you like, buy that brand in larger amounts.
Buy American. Yes, there are many good Chinese-made bulbs out there for less money. But a huge amount of them—especially the cheap ones—are to no one's surprise not going to last a long time. By the time you learn this lesson, you will have spent more money learning your lesson.
Understand that new bulbs are not the same as the old bulbs. This is where most people screw up: they buy a bulb that is way more costly than they need, or buy a bulb that is so dim that they go back to using an incandescent. The problem here is that you cannot compare the new bulbs to the old bulbs because they use so much less electricity.
| | | | |
| --- | --- | --- | --- |
| Incandescent | Halogen | CFL | LED |
| | | | |
| Bought 40 watt | Buy 29W | Buy 10W | Buy 5W |
| Bought 60W | Buy 43W | Buy 13W | Buy 10W |
| Bought 75W | Buy 53W | Buy 16W | Buy 15W |
| Bought 100W | Buy 72W | Buy 20W | Buy 19W |
| You know these. | Last twice as long. | Expensive, and don't break 'em! Often poor quality. Flicker. | Super-expensive, but last decades. |
| 50 cents a bulb. | $2 a bulb | $5 a bulb | $50 a bulb |
If you live in the US, and your home was built after the early 1960s, your light fixtures probably are only rated for 60W incandescent bulbs, so this is where you should be looking.
40W bulbs are usually found only in appliances, like your refrigerator. Unfortunately, when you are out buying a CFL or halogen bulb, you don't see that explained anywhere. So lots of us bought a 10W CFL to replace a 60W incandescent in a reading light…only to discover it was pathetically weak. What?!? You spent how much to get a bulb this dim? Well, now you know why. Stick to the 43W – 13W – 10W row if you want to be able to see.
LEDs are incredibly expensive. Yes, you can pay a hundred times more for a basic bulb, but that will be the last time you ever buy a bulb for that light again. Seriously: the Czar knows folks who have been testing LEDs and they cannot believe how long they last. Bulbs subjected to continuous burning have been lasting four years, non-stop. For a typical light that's on for a few hours at most once a day, you can literally go 30 years between bulbs changes. Most of you, of course, will be dead by then thanks to Obamacare.
LEDs really do work, and they throw out a lot of light for a fraction of the electric usage. In fact, if you can, buy these for any lights you hate to change: high-up ones, inaccessible ones, ones in fixtures that are hard to change. They cost a lot, but they reduce your electric bill by a fifth over regular bulbs. For every LED bulb you buy, you will cut your electric bill by about $4.
CFLs, on the other hand, are probably the worst. Quality varies, brightness is hard to guarantee with fluorescents, they contain mercury, and they don't screw in easily with those weird tubes. Also, many of these flicker or stutter when you first hit the switch. If you cannot afford an LED, get a CFL…but don't expect it to last much longer than a regular bulb unless you buy the pricier ones.
So who loses? Two situations:
Two-way and three-way light fixtures. You know how you used to buy those fancy bulbs, and by clicking your light switch you could increase or decrease the brightness? Unless you buy halogen versions of those—which are more costly and not as easy to find—you are out of luck. Your light will now have on and off, with a couple of clicks in between. Many LED makers, though, are looking into versions that will work with your old lamp, but for now, it's buh-bye favorite reading light by the chair.
Lava lamps. Lava lamps require heat to melt the wax inside the lamp, and halogen bulbs emit only about half the heat. That won't be enough to get them going. And CFLs and LEDs won't produce any real heat. And few of them will fit in the small base of the lamp fixture. Fortunately, the low-profile 40 watt bulbs you need for these probably will escape the phase out so you can still get them in hardware stores. Unless you stock up, it's buh-bye stoner.
So the news isn't all bad. Yes, you will pay more—possibly lots more—but if you avoid the bargain bucket of new bulbs, you really will wind up spending less money overall on bulbs. The Czar has been using bulbs since they became common in the 1920s, and maybe you kids forget, but we used to change bulbs a lot back then. The Czar, looking back, now changes bulbs only once in a while at the dacha, and he will be slowly making the move to LEDs. That way, he won't have to change them ever again.

Божію Поспѣшествующею Милостію Мы, Дима Грозный Императоръ и Самодержецъ Всероссiйскiй, цѣсарь Московскiй. The Czar was born in the steppes of Russia in 1267, and was cheated out of total control of all Russia upon the death of Boris Mikhailovich, who replaced Alexander Yaroslav Nevsky in 1263. However, in 1283, our Czar was passed over due to a clerical error and the rule of all Russia went to his second cousin Daniil (Даниил Александрович), whom Czar still resents. As a half-hearted apology, the Czar was awarded control over Muscovy, inconveniently located 5,000 miles away just outside Chicago. He now spends his time seething about this and writing about other stuff that bothers him.