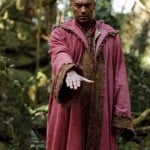 Rockin' the Gallifreyan Robes
Gentle Readers, Dr. J. learned over the weekend that Matt Smith will be completing his run as the 11th Doctor on Doctor Who after the 2013 Christmas Special.
Dr. J.'s been a big fan of the new incarnation of Doctor Who. While the last seven series have been a rocky ride, it has all kept Dr. J. entertained. as even a bad episode of Who is better than a lot of the crap on network television.
Speculation has moved away from, 'what the heck is going to happen in the 50th Anniversary Special with John Hurt' to 'Who's next?'
Topcoats are cool, or so says the 8th and 9th Doctors.
There are a legion of websites where folks are making a case for the first female Doctor, the first black Doctor*, and any and every British acting great under the sun.
None of these lists mention Dr. J.'s choice, Colin Salmon.
Colin Salmon is a British actor. American audiences know him as Charles Robinson, aka 'that black guy hanging out with M in the Pierce Brosnan Bond films' or 'Green Arrow's stepdad, Walter Steele' on Arrow. Wholigans know him as 'Doctor Moon' from the classic Silence in the Library/Forest of the Dead two parter.
Peter Davison, eat your heart out!
Dr. J. is no politically correct namby-pamby liberal, crying out for a black Doctor, but he thinks Mr. Salmon would be terrific. As his name was floated to succeed Brosnan as James Bond, he could easily channel the 'Bondesque' third Doctor, Jon Pertwee. The calm demeanor with which he's portrayed Walter Steele (Arrow) is evocative of the fifth Doctor, Peter Davison. While each Doctor is his own man, there are notes of prior Doctors in each incarnation. As he is typically a supporting actor, rather than a lead, he certainly would meet the BBC's budget requirements.
He'd also be a great choice as he'd be a stark contrast from the more manic tenth and eleventh Doctors who've recently graced the scene and were outstanding and memorable in their own right.
Time Travel is Magic!
Of course, they could always go for the first pony Doctor…
* Dr. J. uses black to describe persons of color hailing of African ancestry that are not American citizens because, well, black Brits aren't American. The 'British African-American actor' sounds damned silly.