Beachfront Property in Tibet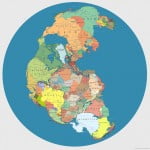 Dr. J. caught this on his morning trawl through teh interwebz and found this fun piece on io9:
This is a
political map
of Pangea using modern nation borders. Dr.J. not only finds the idea of beachfront property in Tibet tantalizing (the Himalayan Riveria?), he finds the whole east coast as riverfront property facing 'Saharan' west Africa property value Schadenfreude. He does feel bad for Shanghai becoming the new Barrow, Alaska along with newly coniferous Indo-China (is Dr. J. allowed to call it Indo-China?). Superimposed weather patterns would have been helpful as that would affect the political economy of Pangea. That being said, if there were no continental drift, the borders would be radically different. Indeed population distributions would be as well. Nevertheless, it's tres amusing.
Some of the comments are funny as well (leaving The City for lunch at Rick's cafe and back by dinner).