Legalized Illegal Immigration: Turning Gay Marriage On Its Ear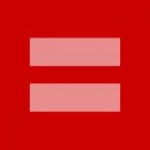 …literally, as Joe Biden would say.
Dr. J. suspects that his progressive drone classmates and colleagues on Facebook are getting marching orders from somewhere.
Folks are knocking their pink and red equals signs on their sides, in line with this week's push on making illegal immigrants legal.
New Hotness
The progressive cabal can't even hire a new graphic designer. Just one who can rotate a jpeg 90 degrees and can change colors. Puter can do more than that.
Nevertheless, expect to see a sea of red and pink go red and blue.
Eerily, the new logo is reminiscent of the Twin Towers which were knocked down by Middle-Eastern terrorists, some of whom who were
illegal immigrants
on the basis of legal immigration status expiring. Terrorists who would most likely not be posting the red and pink equals sign on their Facebook pages.
Dr. J. hopes that both the derivative nature and insensitivity of the new illegal logo isn't lost on anyone before it goes viral.