Should We Be Worried About Common Core?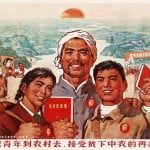 The only thing common to Common Core education standards is that there seems to be something in it to annoy everyone.
Forward! Go all loyal student with Common Core teachings to make smart America for all envy of world!
Unless you have kids in public elementary schools, you may not have even heard about Common Core. This is a new federal educational program set to kick off in 2014, although many school districts have already begun to implement it.
The Good
Remember when you were a kid and you took those standardized ScanTron-like tests? You got a booklet of questions, an answer sheet, and basically no homework for the week. Every question was multiple choice, and you penciled in the answer you thought best. Usually B.
What you did not then appreciate was the goal of that test. Your state, theoretically, compared all the test scores at all the different schools and discovered for the eleventieth time that kids in private schools were outperforming kids from identical grades in union-heavy public schools. And this allowed the unions a way to ask for more money, until today when union-heavy public schools cost more per student than private schools do, and the kids still are failing.
The issue here for many eggheads with too much time on their hands is that even across states, the results of these tests were open to various interpretation. For example, the kids in one state were doing worse than kids in another state; well, heck—that's because the tests are harder in the first state. A state that hands out easy tests winds up with kids that look smarter.
In theory, Common Core sets out to fix that. States will now use a single standardized guideline for what kids in each grade ought to know. States can opt out if they like, or they can even use their same standardized tests; however, if you want some additional federal dollars to help your school district, you'll adopt Common Core. If districts do adopt it, then the public can really compare if the San Dimas, California, School District's sixth graders are really as good as Mentor, Ohio, School District's sixth graders.
So who's complaining?
The Bad
Not everyone likes this idea.
Teachers don't like Common Core because it proscribes a virtual syllabus of what kids must know, grade-by-grade. Not all third graders, for example, need to know how to read an index to find reference information in a book; however, Common Core rather arbitrarily decides they must. The Common Core material was not assembled by teachers, and frankly anonymous experts in education may not exactly know how little kids learn and at what pace.
Teachers also object to the dissociative nature of Common Core. In Teacher World, 5th grade kids read stories about ancient Egypt in Language Arts, learn how pyramids were constructed in Science, and discover Egyptian contributions to world thinking in Social Studies—each class reinforces material in other classes so that kids continuously form links of information. Common Core has very little of that in execution: basically, classes would need to consist of a bunch of unrelated lectures that are certain to bore the crap out of kids.
Teachers are supposed to be scientists, too—and many teachers are questioning the scientific background of Common Core. Where are the studies to prove its effectiveness? Where are the data? Who structured the studies? What was the control? The Common Core folks have none, but are racing to produce some as we will see below.
Unions don't like Common Core, either. Not because Common Core will expose union-run schools for the unproductive tragedies they are (that won't happen), but because of an interesting reason: Common Core effectively provides a syllabus for each grade, each year.
And that means that you don't need a union-member teacher to teach the class. Actually, you don't need a teacher at all. You can get any person—say, a cadre leader—to stand up in front of the class and recite facts and figures to the students. Since all that matters is that the kids pass the standardized tests, it makes no difference if the kids understand the material or even like the material. They just need to regurgitate it on a multiple-choice ScanTron.
This is a fair criticism.
Parents object to Common Core because many parents have already begun seeing it. The kids are having a hard time with the newer homework concepts, and parents seem at a loss to help them with it.
One of Common Core's objections to conventional testing is that American kids suck at math. One of the reasons, its founders concluded, is that math is taught in a particularly bad fashion. Addition? You carry the one. Subtraction? You borrow. Multiplication? You memorize the times tables. Division? You learn short and long division. Fractions? Greatest common denominator, and so on.
"I am your teacher for the day. Today we learn subtraction, and why borrowing is inferior to just taking what you want from a wealthier number!"
Not all kids can learn that way. So Common Core provides about eight methods of teaching math to kids. And kids are expected to try all the methods. If they latch on to one, they can use that one. If not, they try the next. There seems to be some emergent results that indicate more kids—not all, but more—will develop good math skills with these different approaches.
Unfortunately, the kids bring home alien-looking homework for mom and dad to muddle through. "Can't the kids just learn to borrow and carry?" the exasperated dad asks. In most cases, yes: many teachers are letting the parents know that the right answer is more important than the method. How you solve the problem is not important to Common Core; what you conclude is essential.
School districts don't like it, either. Many districts want the flexibility to alter, change, modify, and improve upon their teaching strategies to meet local needs. Common Core is uninterested in local needs: you need to learn what kids in Alabama to Wyoming are learning. And while school districts are told they can ignore Common Core and develop their own standards, the problems are obvious:
It's damned expensive to develop your own standards.
No one is offering any pre-done alternative; basically, Common Core is it.
While you can ignore Common Core, you lose federal dollars in doing so; most school districts cannot sustain themselves without federal dollars.
As a result, many school districts feel totally trapped by this move and are naturally resentful.
The Ugly
A lot of folks on the Right are upset about Common Core, and accuse it of injecting liberal Thought Control into education. A chief opponent of Common Core is Glenn Beck—you know who he is—who envisions a direct form of conditioning, almost like a federal re-education camp. It's true: if you control the kids' education, you control their politics for quite a while.
But there really isn't a whole lot of liberal stuff, if any, in Common Core. So a 6th-grade kid needs to know how to measure the area of a triangle. Hardly liberal. A 2nd-grade kid ought to know cursive handwriting. Okay. And so on.
What's actually happening is that Common Core forces parents to look at what their kids are learning with fresh eyes. And parents are discovering for the first time that Cesar Chavez was a great man. That Reagan hurt the poor. That we lost the Vietnam War because we interfered with what the people wanted.
This is all liberal fantasy that has been there for a very long time. This sort of stuff was being drilled into college students in the 1970s. And large amounts of today's teachers believe it's all true because they never heard otherwise—the teachers were all educated at liberal schools. Common Core hasn't been pushing liberal progressive agendas: it's all been in schools for decades.
And it needs to go; but eliminating Common Core won't make a spit of difference. We need to oust the liberal GroupThink that has colleges and universities in a guillotine choke. Eliminate that, and nearly all of Glenn Beck's objections to Common Core go with it.
Other groups believe that this is an attempt by the Obama administration to seize control over schools; but Common Core was developed and promoted when George W. Bush was president as a result of the failings of No Child Left Behind. And both conservatives and liberals tend to agree that NCLB was a disaster for education: Common Core is a definite improvement.
This proves that Common Core is the ideal method to teach First Graders how to solve quadratic equations using only nitrogen and sunlight.
Finally, a lot of people are objecting to the sudden on-rush of tests being conducted on students. Many school districts are being asked by the Feds to set up cameras in the classrooms, hook kids up to biorhythm-type monitors, and employ facial recognition software to study the kids. As the teacher presents Common Core materials, these scientific Dianetics will prove that kids like Common Core methods and are really enjoying the learning experience.
Bullshit. When you decide in advance that Common Core is the way to go, and then get challenged to produce your non-existent proof, forgive us if we suspect your studies will "confirm" your pre-suppositions. Common Core's test results, vindicated or not, will forever be accused of confirmation bias and cherry-picking—because you already decided they need to approve your opinion.
Common Core as a concept is not a bad idea—it really is too easy for states to jigger the results ("our 4th-graders are smarter than yours, ha ha!"), but the implementation of Common Core appears to be as sensible as the implementation of the metric system was in the 1970s. The problem with social changes is that the government is invariably the worst-suited to push it forward.
For some additional myths about Common Core, be sure to read this.

Божію Поспѣшествующею Милостію Мы, Дима Грозный Императоръ и Самодержецъ Всероссiйскiй, цѣсарь Московскiй. The Czar was born in the steppes of Russia in 1267, and was cheated out of total control of all Russia upon the death of Boris Mikhailovich, who replaced Alexander Yaroslav Nevsky in 1263. However, in 1283, our Czar was passed over due to a clerical error and the rule of all Russia went to his second cousin Daniil (Даниил Александрович), whom Czar still resents. As a half-hearted apology, the Czar was awarded control over Muscovy, inconveniently located 5,000 miles away just outside Chicago. He now spends his time seething about this and writing about other stuff that bothers him.