The Czar is correct in pointing to Bob Wright's fatuity.
Wright errs profoundly in pointing to U.S. foreign policy as the malign demiurge that made Nidal Hasan a murderer. His argument is a textbook example of the fallacy of foreign-policy egocentrism.
Hasan became an Islamist. Islamists are to Muslims as bomb-throwing anarchists are to libertarians suspicious of state power. Islamism is a variation of the twentieth-century ideology that traveled under the name fascism, Nazism, or communism (among others). It substitutes the umma for the nation, Volk, or proletariat; sharî'a for a political program; and the Islamic eschaton for the pure justice of communism or the Sieg des Volksgeistes or whatever. It's much more intelligible if you think Lenin or Fanon than delving into the corpus of ḥadîth.
Playing Wright's game of "who's to blame?" leaves you with two options as you go back and back and back in a roundelay of "who struck John"—the West (here conveniently called "the right" for Wright and the New York Times' readership) or the Prophet Muḥammad. Neither of those is satisfactory—or correct. The late Laurent Murawiec did as good a job as has been done in laying out the recent and politicial-philosophical roots of Islamism in The Mind of Jihad. If you want to understand the actual project of "radical Islam" or "political Islam" or Islamism—Muraviec's book is illuminating.
The way to defeat do-it-yourself Islamism is to convince all the losers and psychos attracted to it that they can't win. Wright then steals a base, claiming that absent Iraq and Afghanistan, we know that Nidal wouldn't have become a jihadi. What about the Beltway sniper? The guy who shot up LAX? The major who fragged his fellow officers? The guy who shot up the recruiting station he mentions? There's a much more obvious uniting thread to these guys than Wright says, and it's an argument he dismisses summarily with an denial of Islam's inherent belligerency. While, true, Islam isn't essentially belligerent (although a legitimate caliph can, in fact, proclaim a jihâd, the last having been the spectacularly unsuccessful Ottoman attempt to rally the world's Muslims against the British in World War I), it does contain an unusual wealth of resources to draw on if you want to commit violence in its name. Muslims have interpreted their religion in a variety of fashions, from irenic to just to oppressive to fanatic and murderous. All those options remain on the table, and most of the world's Muslims seem to have opted for a silent resignation—not entirely for, not entirely against—during the current struggle between Islamism and its Western and "insufficiently Muslim" targets.
The DIY jihadis are not representative of Muslims, as some would have you believe, or of Muslims displeased with American foreign policy, as Wright argues. If they were the first, Islam would have to be eradicated—Anne Coulter's black joke about "invading their countries and converting them to Christianity" is a brutally simple encapsulation of the kind of mindset one would have to adapt if one really believed that "Islam is the problem." Wright offers a more seductive temptation—repent and change our evil ways, and these scourges of God shall disappear. Of course, if we did, say, pull out of the Middle East, let Afghanistan fall to the Taliban, leave Iraq and Israel to the tender mercies of Iran and its cat's-paws, Syria and Hezbollah, who's to say our politicians, soldiers, and bureaucrats wouldn't find themselves on the end of psycho shooters with different criticisms of our policy—Jews enraged by Israel's annihilation, Maronite Christians enraged at a Hezbollah policy of annihilation, the very Iraqis who are our allies today?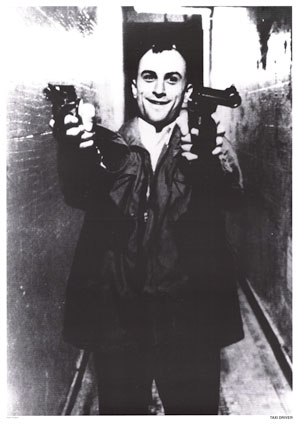 What Wright fails to realize is that there's no particular policy that makes madmen. The gleefully murderous nobody is a phenomenon not reducable to foreign-policy disputes. There's a certain loser personality type drawn to grandiose violent ideologies which give their life drama and meaning they can't find elsewhere. If it's not one thing, it may well be another. ("It was all Lenin in here last year.") We can't know. Indeed, one could equally credibly argue the opposite of Wright's case: that without a vigorous U.S. response, more marginal Muslim (and especially convert) psychos would be drawn to the apparently victorious march of political Islam, committing more acts of terror, drunk with the prospect of imminent victory and their exalted place in the new order, when "a real rain will come and wash the scum off the streets," as a noted political commentator once contended.
Contemporary Islamism combines ostensibly religious missionary "da'wa" with the classic Leninist appeal to ideology and call to join the vanguard morally permitted to commit atrocities to throw off the oppressor class keeping you down (perhaps even unbeknownst to poor benighted, falsely-conscious you).
The way to defeat do-it-yourself Islamism is to convince all the losers and psychos attracted to it that they can't win. That the movement's millennial promise is false. They must be demoralized—and unfortunately the major way to do so is relentlessly kill a whole lot of their armed confrères, with all the awfulness that that grim duty entails. Going on the offensive against utopian radicals is not only an act of self-defense, but a step towards defanging the appeal of their ideology which, like every other version we've seen come and go since the French Revolution, derives a ton of its appeal from the promise of being on the inevitably victorious side of the Good. You have to smash that delusion—through military success and constant propaganda on behalf of the truth.
Indeed this approach of defeating those who would attack us (with violence when necessary) and continually presenting the case to the broader Muslim world through public diplomacy that we are not—as we are in fact not—enemies of Islam. Our carrot, if you will, is the goodwill and unique benefits of friendship with a superpower—e.g., liberating the Muslim lands of Bosnia, Kosovo, and Iraq. Free trade. Economic assistance. Advice on democratization. Etc.
Our stick is destroying those who attack us and our allies. You'll notice that this is our counter-insurgency strategy writ large: cultivate working relationships with those who want peace and crush those who want war. This approach has the added benefit of making peace attractive and war deeply unattractive. Those who "love death" don't love it as much when it's a meaningless, hopeless, squalid thing, rather something they can characterize as part of a world-changing conquest of Evil on the part of Good. They must be denied that hope.
Mr. Wright chooses to believe that by our reorienting our foreign policy in some unspecified fashion (doubtless congenial to his political tastes), Nidal's ilk can be appeased. One hopes he finds psychological consolation in this comforting delusion, but in retreating to it, he abandons all claim to seriousness.
Update: Ron Radosh agrees.

Don't ask impertinent questions like that jackass Adept Lu.