Who's he got, Cal-State Northridge or AIG?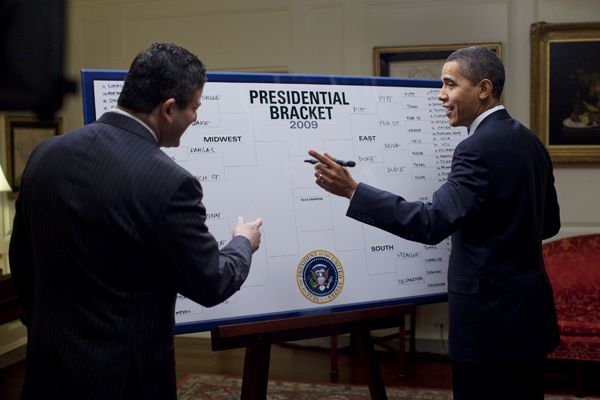 The Gormogons would like to thank our esteemed colleague Ennuipundit for passing along this amazing story, in which President Obama, amidst a potentially once-a-century economic crisis, with Russia rearming, China staging provocations in the South China Sea, Iran reading nuclear-tipped ballistic missiles, and Disney poised to unleash High School Musical 4, goes onto ESPN and breaks down his NCAA bracket picks.
Now, look, your Volgi is as aware as anyone else about the nature of the Presidency, and that if it becomes all-consuming, it will devour its inhabitant (just ask LBJ). He does not begrudge the President a golf game, a pasty-thighed jog, an exercise obsession, a cigarette-boat ride, a secret smoking habit, an illegal White House NCAA pool, etc. (He draws the line at nailing East German spies, though.)
However, given that President Obama has done nothing but use the rhetoric of economic and civilizational collapse, fire and brimstone, cats and dogs living together, in order to push through his "stimulus" packages, it's more than a little disconcerting to see him goofing around with something as trivial as this.
As GorT pointed out today, this is part of an unseemly shallowness in public, combined with extreme rhetoric, which, to repeat myself, would, rightly or wrongly, be excoriated in a Republican president.
In basketball terms, what's interesting to me is how very, very conservative his picks are. He's only got two big upsets in the first round, VCU and Temple. On the upside, he picked the Terps in the first round, so, nice work, Mr. President!
Picture credit: "Crisis in the Situation Room," Pete Souza for ESPN.com.
Meanwhile, feel free to handicap the Gormogons' tourney:

Don't ask impertinent questions like that jackass Adept Lu.