Buckle up, kids, this one is going to be long. If you are a follower of ours on Twitter (), you've probably seen a handful of us (largely 'Puter, GorT, and the Czar) rip apart various posts from Washington Post opinion writer, and once labeled "conservative writer", Jennifer Rubin. I'm not sure what has happened but something broke her. cough, cough, Trump, cough, cough, Democrat-leaning paper, cough, propaganda outlet for the liberals, cough, cough. In her latest opinion piece* titled, "Enough despair. We cannot be victims of excessive expectations.", Ms. Rubin goes full tilt in support of the Biden-Harris administration turning a blind eye to anything the democrats have or could have done. It is so off the rails, that I'm going to take it apart piece by piece.
Most of us expected more from 2021. The year started with new vaccines that promised to remove the coronavirus cloud hanging over us. And the defeat of former president Donald Trump suggested the threat to our democracy was behind us.
Keep in mind that the Trump administration accelerated the path for the vaccines and the reactions by Joe Biden and Kamala Harris were:
But, lo and behold, once the Biden-Harris administration is installed, the rhetoric changed and the emphasis to get a vaccine was amped up. Celebrities flocked to it. Biden and Harris televised their vaccinations. Why? Did the vaccines themselves change? No. Did the Biden-Harris administration do something different with the vaccines? No. They took what many in the press would characterize as a very anti-science position and were NEVER criticized for it. Never.
As far as the "threat to our democracy" – keep in mind that immediately following Trump's win in 2016, the #Resist movement started. That is a movement specifically aimed at resisting the actions, policies, etc. of a duly-elected President. Is that not a "threat to our democracy"? I'll be the first to say, the riots that took place at the Capitol on January 6th, 2021 were abhorrent, stupid, and criminal…but the democratic rhetoric of "threat to our democracy" is just dumb. Moving on…
 the 50-50 Senate is paralyzed while large portions of the president's agenda remain stalled
Here she is referring to the "Build Back Better" plan which only has 40% polling support in the country, Two Democratic senators are against as it has wasteful spending at a poor time for the country economically. And, according to the Joint Committee on Taxation, the BBB act (as passed by the House of Representatives), does more for those earning over $1M than it does for anyone in the four income brackets from $75K to $999K. It also does less for those brackets than what the "Tax Cuts and Jobs Act" passed under the Trump administration.
The Supreme Court gave up the pretense of impartiality as its right-wing justices, who swear they are not "partisan hacks," implemented a Republican agenda with little regard for precedent. The constitutional right to access to safe abortions, and with it a critical aspect of women's self-determination, will likely vanish. The court made hash of Section 2 of the Voting Rights Act, as it did previously with Section 5.
The Supreme Court does not "implement" an agenda. It hears the cases brought before that are elevated from lower courts. There is NO Constitutional right to access safe abortions. Row v Wade is a set of interpretations of three parts of the Constitution that have been applied to abortion – there is no "right" defined in the Constitution for accessing abortion procedures. We'll skip the whole "anti-science" part of the discussion for now. In both cases (abortion and the Voting Rights Act), the SCOTUS essentially pushed the issue back to Congress and the states to, for lack of better words, write better laws. Consider for a moment, the complaints from Democrats about requiring photo identification to vote but yet, they are enacting regulations in various localities to require "proof of vaccination" to enter bars, restaurants, concerts, sporting events, etc. If you weren't aware, that usually means showing a photo identification and a vaccination card (or the data from it). I think voting is a more important institution in this country than bars and concerts (as much as I enjoy a good drink and concert)…why would anyone not support protecting it as such?
Internationally, the Trump administration's blunder in pulling out of the Iran nuclear deal allowed Iran to race ahead with its nuclear enrichment program. Russia is poised to invade more of Ukraine, and democracy is in decline around the world. China shows no sign of easing its domestic oppression or its aggressive tactics on the world stage
No, the Iran nuclear deal was an enforced debacle that did nothing to deter Iran. They were pursuing nuclear enrichment before Trump, during Trump, and now after Trump. That conclusion is baseless (and hence, why it's in an opinion piece…yet presented as fact). Joe Biden called Russia the "junior varsity" and during the Democratic Presidential debates said, "China is going to eat our lunch? Come on, man. I mean, you know, they're not bad folks, folks. But guess what? They're not competition for us." After the debacle of Biden's Afghanistan exit (including ignoring the strong recommendations from the military), does anyone believe that Biden is going to play a strong hand against advances by Russia or China? "Come on, man"
All that said, the constant doomsday headlines and the public's bleak outlook disregard bright spots throughout the economic and political landscape. It takes time to turn a country around and squelch a pandemic. Unemployment has plummeted to 4.2 percent. The United States leads the world in growth, and wages and corporate profits have soared.
Unemployment is down as many have left the workforce, likely most taking the opportunity of the pandemic to retire or stop working for a while. But much of what we see and hear as consumers is that places are "short-staffed" – including restaurants, shipping providers, docks, factories, etc. So touting a labor statistic when it's not indictive and hides aspects of the full U.S. employment picture is lame. 3Q21 GDP growth was smaller than the previous two quarters under the Biden-Harris administration (6.3, 6.7, then 2.3). Wages have increased at a very modest rate (0.4% in October, for example) but with a 0.9% increase in inflation, that resulted in a net decrease in wages by 0.5% in October 2021. So, Ms. Rubin conveniently ignores that growing problem – that isn't transitory at all.
Meanwhile, the U.N. climate summit in Glasgow produced meaningful progress on climate change. America's alliances are on the mend, the war in Afghanistan is over and we are leading the international response to the pandemic. The U.S.-Australian-British security alliance provides a new and substantial check on China's regional ambitions (and the spat with France over the United States poaching a submarine deal with Australia is in the rearview mirror). And let's not forget, President Biden helped broker a quick truce in another Israeli-Palestinian conflict, avoiding a prolonged war.
Just by reading the report on the Glasgow Summit put out by the UN, the "meaningful progress" can be summed up that 197 countries agreed to report on their progress on fighting climate change in 2022 and they failed to adopt strong language about "the phase-out of unabated coal power and of inefficient subsidies for fossil fuels" largely bending to India and China. "Meaningful progress"…sure.
She claims alliances are on the mend – after Biden botches it with France over her later mentioned US-Australian-British submarine deal – and while maybe are "in the rearview mirror, they were still done by this administration. She credits Biden with brokering the truce in the ongoing Israeli-Palestine conflict when in reality, he blocked actions by the U.N. Security Council calling for a ceasefire, and pushed other regional powers to lead the truce. This is, of course, ignoring that the previous administration brokered two deals: the UAE-Israel and Bahrain-Israel.
America once more has a decent, informed and pro-democracy president.
Who is the least-accessible President in modern history. Has people "instructing him" on which press reporters to call on. Turns away from the podium when faced with hard questions. And, most recently, gets up and flies to Delaware saying, "There is no federal solution. This gets solved at the state level." – a position the Trump administration held and promoted.
And decent? He has fought any investigation into past sexual harassment investigations by blocking access to records in Delaware. He has a creepy personal space issue.
Ms. Rubin touts Biden as pro-democracy but yet he is getting hammered in court over his far-reaching executive orders around the pandemic (that he claims is now a state problem). His OSHA vaccine mandate is likely next in line to get torn down. His administration is actively going after states for other policies, though, in a very authoritarian and not federal republic way. So, maybe she doesn't know that the United States is a federal republic, what a federal republic is, what authoritarianism is, etc.
Ms. Rubin then spends the next 3-4 paragraphs touting the pursuit of action against people involved with the riots on January 6th at the Capitol.
Finally, we have made enormous strides in the battle against the coronavirus. More than 200 million Americans are fully vaccinated, schools are open and lockdowns are not in the cards. With boosters, almost all vaccinated Americans can regard covid-19 as a manageable disease. If the coronavirus becomes analogous to the flu, most Americans can get on with their lives.
A little context, Joe Biden said in response to American crossing 200,000 deaths linked to COVID-19, that "Anyone who's responsible for that many deaths should not remain as president of the United States." Biden took responsibility for the federal government's response and touted repeatedly that Trump didn't have a plan but that he did. Over 350,000 Americans have died related to COVID-19. Biden can't and won't live up to his own words.
To summarize: Ms. Rubin writes an opinion piece so NOTHING in her pieces should be taken as fact, as much as she pens it as such. It is clear she has turned a blind eye to the problems and faults of the current administration. I'm not touting the Trump administration – they had plenty of faults and problems. But the kid-glove treatment in her opinion pieces are little more than Democratic propaganda and one wonders if an opinion writer for the Washington Post could have or apply any critical thinking skills.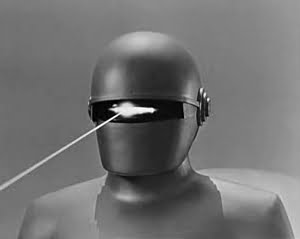 GorT is an eight-foot-tall robot from the 51ˢᵗ Century who routinely time-travels to steal expensive technology from the future and return it to the past for retroinvention. The profits from this pay all the Gormogons' bills, including subsidizing this website. Some of the products he has introduced from the future include oven mitts, the Guinness widget, Oxy-Clean, and Dr. Pepper. Due to his immense cybernetic brain, GorT is able to produce a post in 0.023 seconds and research it in even less time. Only 'Puter spends less time on research. GorT speaks entirely in zeros and ones, but occasionally throws in a ڭ to annoy the Volgi. He is a massive proponent of science, technology, and energy development, and enjoys nothing more than taking the Czar's more interesting scientific theories, going into the past, publishing them as his own, and then returning to take credit for them. He is the only Gormogon who is capable of doing math. Possessed of incredible strength, he understands the awesome responsibility that follows and only uses it to hurt people.