NFL Patron Saints—Update!
People ask me*, "Dread and Unusually Attractive Volgi of the Œcumene, it's getting to the point in the NFL season where I'm really concerned about my team's making the playoffs, or not screwing up their draft position, or needing to have some sort of exorcism to drive their evil owner away into the desert where he will dine on naught but locusts and camel scat."

And I say, "That's not actually a question."

And they say, "Don't interrupt. My problem is that I would like to pray for these outcomes, but I know that God Almighty is above the petty concerns of sport; and, moreover, there are probably an equal—if not greater—number of partisans of that team I really really hate who are praying (with, I hate to admit, almost equal merit) for the exact opposite outcome, and I'm fairly sure at least that one owner is employing Baphomet himself to effect his pomps and works."

And I say, "Still not hearing a question."

And they say, "I get distracted, ok? So my question is: do you think there's a way I can get some sort of advocate for my team whose prayers might carry a little more weight than mine? I once asked the late St. Theresa of Calcutta, but turns out Mother Teresa really only followed the NBA and Australian-rules football."

And I say, "I'm sorry, I dozed off there. No, no, just kidding. Yes, obviously, you've almost hit on it, but rather than scouring the land for living saints, why don't you just ask some bona-fide, certified, grade-a, canonized saints in the next world for their intercession? I mean, that's pretty much what they do. Sit around, basking in the Beatific Vision of God, hanging out in eternal love, and doing the occasional solid for us sweaty losers. I mean, I may be misremembering the Catechism slightly, but, close enough."

And they say, "But whom shall I ask, of whom I can be sure that my ghastly enemies in the Next City Over won't be petitioning the same guy?"

And I say, "That's a lot of whoms. But to your question, don't forget that saints have special interests, or 'patronages,' that they like to help out with, and they liked certain animals, or they got killed in some horrible way that they're sympathetic towards."

And they said, "So who's the patron saint of my team?"

And I say, "How the hell should I know?"

And they said, "Isn't this kind of your job?"

And I say, "I wish. Wait. Will you pay me for that information, like a job?"

And they say, "Uh…I guess?"

And I say, "Hundred bucks."

And they, in their sweaty loserdom, say, "Fine."

And I say, "Cha-ching." And then I dig into my arcane library, and, after a suitably dramatic interval designed to torture the poor guy, I announce, "The Volgi-approved patron saint of your team is…" And I tell them.
Now having much picked up a decent amount of scratch for having established patrons for all the teams, I'm feeling guilty about the NSX Type S in my garage, and so I hereby donate all this knowledge to the communion of NFL fans.

St. Vincent of Lombardi, ora pro nobis.

*People don't actually ask me this. Once that idiot Adept Lu asked whether the green dragon on his mahjong tile could bite him, but, man, he was drunk…
Update: Observant and knowledgable reader R.K. III points out that San Diego was named after St. Didacus of Alcalá, so my "James" joke is not quite on-point. I take refuge in the fact that 'Didacus' is thought to be a medieval Latinization of Spanish 'Diego' which is a shortened form of 'Santiago,' itself a contraction of 'Santo Yago' or 'Saint James.' Given that the gulf between James and Diego seems further and therefore funnier, I'm giving it a STET and Mr. K a commendation for a good catch. One coffer of Deccan-minted gold bullion will arrive at your house by Tcho-Tcho messengers forthwith.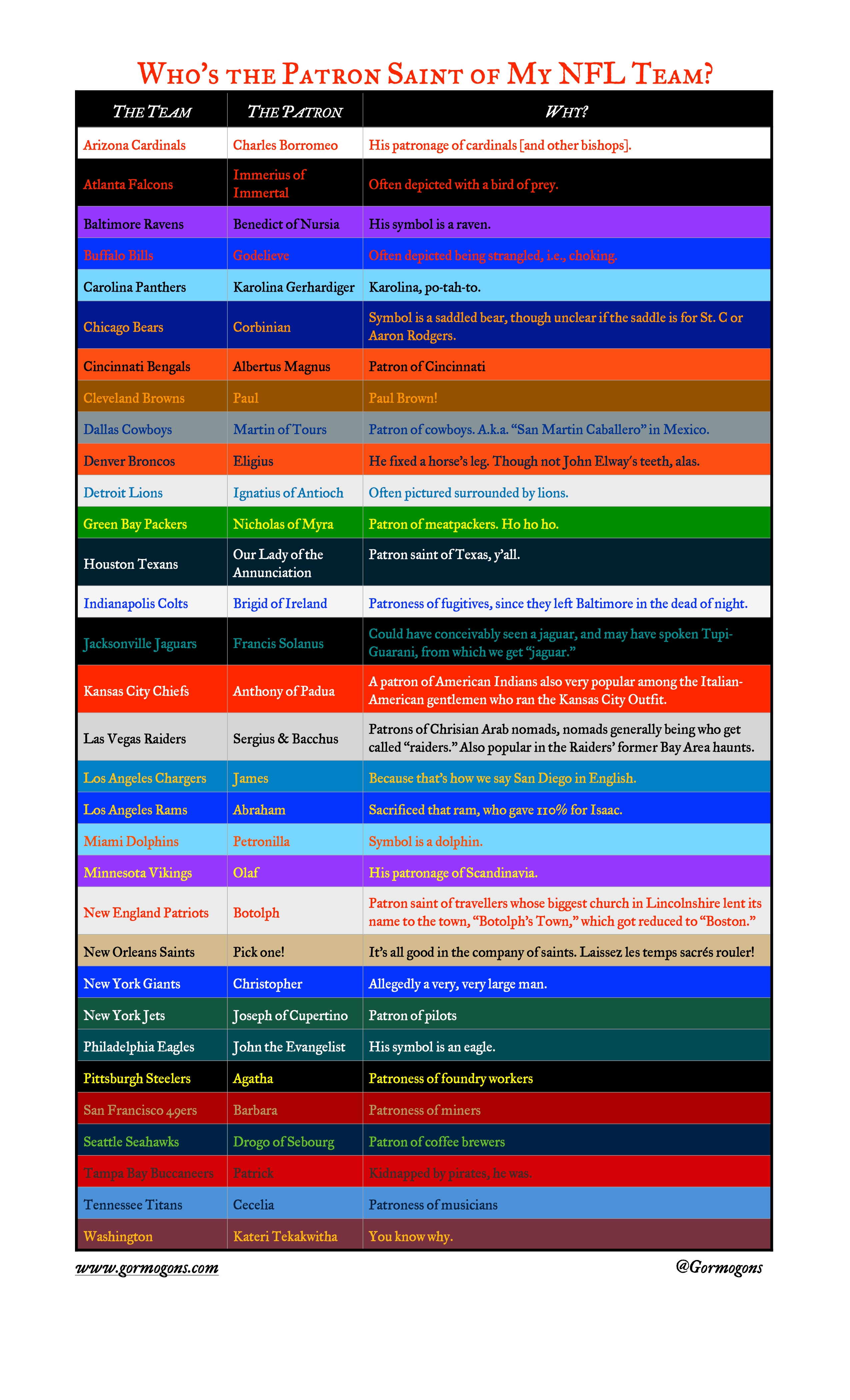 Don't ask impertinent questions like that jackass Adept Lu.