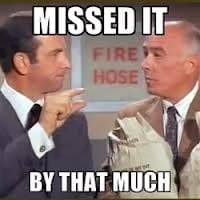 As stated before, GorT did not vote for Trump in 2016 and it's unclear what my in-person vote will be in a few weeks. In reading and discussing politics with people, I believe there is a very large contingent in this country that is dissatisfied with our options between the two main parties. For the Republicans, we will have another four years of Trump, his crazy tweets, probably a few more mistakes, some good policies, and likely some more, less conservative, approaches. For the Democrats, they will need to live with starting with probably the most diverse slate of presidential candidates that Democrat votes, and Democrat voters alone, whittled down to a older, white man likely facing some cognitive issues. They have to live with a VP nominee who destroyed their Presidential candidate in the debates but has since written off those points as "just a debate." (think about what happens during the Pence-Harris debate – it won't matter because, in her words, "it's just a debate"). And now Harris is calling their ticket, "the Harris administration along with Joe Biden".
Regardless of the problems on either side, we missed an opportunity that is resulting in the lines being drawn with the Never Trumpers advocating to vote for Biden because he's not that bad and the media doing contortions trying to paint Biden in a good light while pointing out any potential or fabricated issue with Trump. I believe that 2020 was a perfect storm to set up a viable third-party candidate. Think about it – it would provide representation for a large group that currently feels neither party represents them. With a conservative-leaning candidate, at least fiscally, it would offer the Never Trumpers an option that isn't the "not so bad" Joe Biden. And for the more moderate Democrats, it would offer an alternative to a 35+ year politician that really hasn't done much that has a weird personal space / groping women issue.
Sure, you can say, "GorT, you're crazy, a third-party candidate will never make it." Yes, the system isn't really set up for third parties to be viable. And yes, history indicates that a third party candidate only garners a fraction of the vote and largely is just a distraction or side-show. But I'll offer two rebuttals:
If not now, when. Seriously. I don't know about the rest of you but I get a sense that except for the extremities, people are growing weary of the two political parties and they're really devolved largely into a political power caste. Yes, there are notable exceptions but one wonders how long they can "fight the good fight" for the people before getting beat down and leaving office or conforming to the practices that we've seen by many. As an example, for those on the conservative side: where is the limited government, fiscal responsibility? It's been long lost.
2020 is primed for this. Seriously, we have two candidates that the center (moderate conservatives to moderate liberals) aren't real pleased with and are pinching their noses to vote on either side. Doesn't that just scream for a third option? One to really push the issues.
In the end, the real problem is that we are way too invested in the federal government. Look at the news cycles, particularly in the last 3-4 years, and how focused and laden with federal government, primarily Trump oriented, they've been. Our world doesn't orbit around what Trump is or isn't doing nor should it. There are real issues in our cities and states that local leaders should address and that we should care about not all the crap that the media is foisting upon us. It's time to make the federal government less important in our lives. And while I would usually say that this means voting Republican, I'm not so sure anymore…but it sure as hell isn't voting Democrat….so let's get a third choice.
GorT is an eight-foot-tall robot from the 51ˢᵗ Century who routinely time-travels to steal expensive technology from the future and return it to the past for retroinvention. The profits from this pay all the Gormogons' bills, including subsidizing this website. Some of the products he has introduced from the future include oven mitts, the Guinness widget, Oxy-Clean, and Dr. Pepper. Due to his immense cybernetic brain, GorT is able to produce a post in 0.023 seconds and research it in even less time. Only 'Puter spends less time on research. GorT speaks entirely in zeros and ones, but occasionally throws in a ڭ to annoy the Volgi. He is a massive proponent of science, technology, and energy development, and enjoys nothing more than taking the Czar's more interesting scientific theories, going into the past, publishing them as his own, and then returning to take credit for them. He is the only Gormogon who is capable of doing math. Possessed of incredible strength, he understands the awesome responsibility that follows and only uses it to hurt people.