Listeners of our podcasts got quite the lecture from GorT on the importance of brining, to which Ghettoputer and the Czar immediately agreed. Brining meats before cooking them is often helpful, sometimes essential.
The Czar likes to brine poultry…although arguments can be made more almost any meat. Brining is the process of soaking meats in salt water (brine); via osmosis, a chemical reaction occurs in which the cells of the meat soak up the salt, which in turn soaks up the water. When the meat is heated during cooking, the salt releases the water back into the cells, resulting in an especially juicy chunk of meat.
This sounds easy, and it is—but there is one especially important thing to remember: the formula to create proper brine. You can't, despite what the Czar reads from internet grillers from time to time, just dump salt into water. There's a specific ratio of salt to water you need to use. This isn't advanced chemistry, fortunately, so just read this post.
Sunday, we decided to do a duck and a chicken on the smoker. The reason for the chicken is that duck is a tremendously expensive way to get very little meat on your plate. The Czar can do many things, but feeding four hungry people off one duck is a miracle equivalent to loaves and fishes. So to add meat to the pile, we threw a chicken into the mix.
Here's the duck, all defrosted and washed clean, resting on a plastic bag because we really hate contaminating the food with stuff left on the worksurface.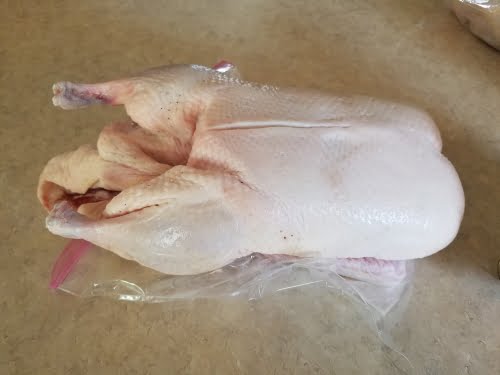 And here are the solid ingredients for the brine. This is a quarter-cup of sea salt (or any kosher salt…iodized salt has different properties and should be avoided when brining…trust us on this) and a quarter-cup of brown sugar. The sugar is unimportant to the process. All you need is salt and water. Frankly, most brine recipes contribute little to nothing to the final flavor of the meat and are a good waste of herbs and spices. Brown sugar however helps make the meat surface a bit sticky, which is important when smoking the meat. Sticky meat traps smoke particles better.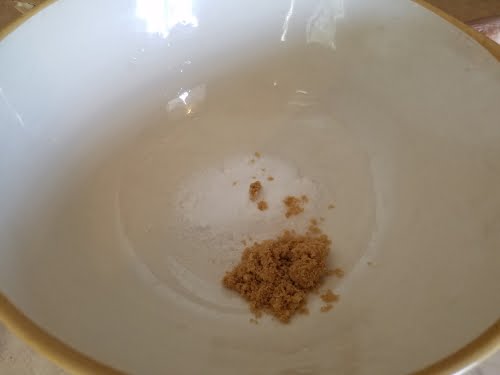 Now we add four cups of warm water and stir to dissolve the sugar and salt. The duck is immersed in this bath. Actually, to be honest, we used a half cup of salt and half cup of brown sugar, and added 8 cups of warm water because the duck was a big guy. The brining formula is quarter-cup of salt to four cups of warm water. Write that down. Anything else you add is immaterial. And yes, you can use beer as a substitute for water…that does impart a slight flavor to the meat, though, especially if it's an ale.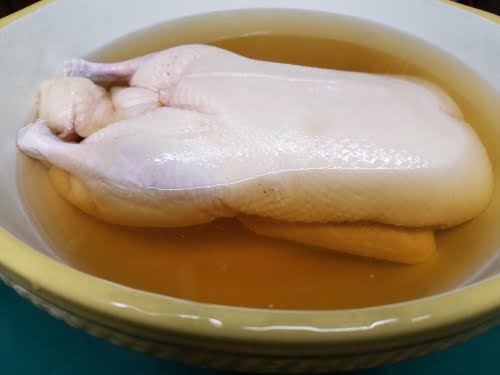 Every few hours, the Czar rolled this bird over to ensure the whole bird was soaking in the brine since birds tend to float. Two things to observe: first, yes, ducks contain a lot of blood. Chickens generally don't leak this much when brining, but ducks sure do. The second is to compare the water level in this photo to the one above: see how much salt water the duck absorbed? That's the photo-proof that brining is a superb way to get moisture into meats.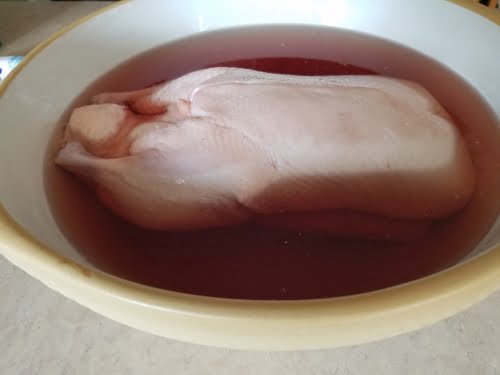 The Czar also made up a second batch of brine and poured that into a whole roaster chicken stuffed into a gallon plastic bag. Here they are, reunited: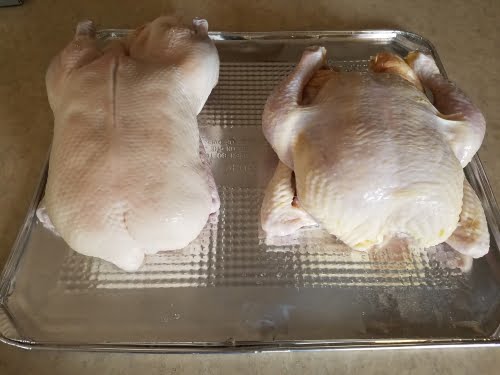 The Czar got the smoker going with cherry wood and Kingsford briquettes. You can slow-cook poultry a little hotter than pork, so the Czar was aiming for a smoking temperature between 200° and 275°, which due to the wind, fluctuated between these values.
Duck and chicken should be cooked to a temperature of 152° – 155°, and then held at this temperature for two to three minutes. This temperature, plus this holding trick, kills more bacteria and bad things on the meat as well as cooking it to 165°, but without drying out the meat. The USDA knows this, and publishes this information on their website, but understanding that most cooks are idiots, has them get the temp to 165&deg. That kills everything, but dries chicken into cardboard. The USDA correctly acknowledges that cooking chicken to a lower temperature is just as safe, but you have to hold it at this lower temperature for a longer period of time.
Here's the birds on a foil tray; the tray was too large for the smoker, so we curled up the edges.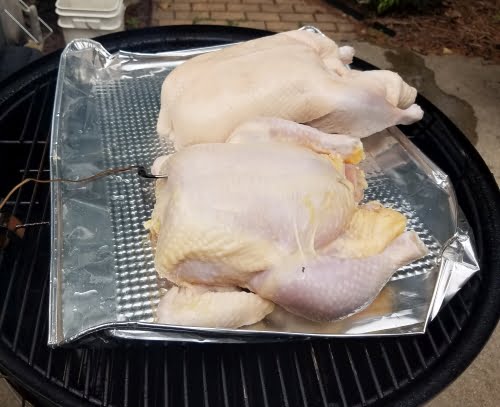 When the temperature probe hit 152° we counted to two minutes and thirty seconds, whisked the birds off the smoker, and put them on the grill for a bit at 300°, just to gently crisp the skins. We don't eat the skins, but it helps loosen them up a bit for easy removal.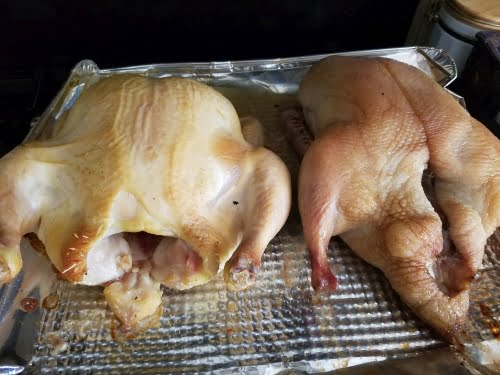 Anyway, the results were terrific. The chicken was gently smoky in flavor but very moist. The duck was tender, and the little bit of meat we got off it was a classic taste and texture: picture a blend of turkey and steak.
Duck's probably not your thing, and maybe you're not into smoking. The point is that none of this is essential: brining, however, can improve your chicken—and other meats—whether you smoke, grill on gas, grill on coals, oven-roast, or bake. And the quarter-cup salt to four cups of water ratio is the secret.

Божію Поспѣшествующею Милостію Мы, Дима Грозный Императоръ и Самодержецъ Всероссiйскiй, цѣсарь Московскiй. The Czar was born in the steppes of Russia in 1267, and was cheated out of total control of all Russia upon the death of Boris Mikhailovich, who replaced Alexander Yaroslav Nevsky in 1263. However, in 1283, our Czar was passed over due to a clerical error and the rule of all Russia went to his second cousin Daniil (Даниил Александрович), whom Czar still resents. As a half-hearted apology, the Czar was awarded control over Muscovy, inconveniently located 5,000 miles away just outside Chicago. He now spends his time seething about this and writing about other stuff that bothers him.