GorT's Entertainment Update
It's been a while since GorT provided an update on entertainment options that he's enjoyed recently.
First, let's be honest: the Netflix, Amazon, and non-traditional media players are really coming forward with some great stuff. GorT's been enjoying a number of those programs in addition to a number of BBC productions recently while traveling for business and exercising to include the following.
Red Oaks
This Amazon Original show is a "coming of age" series set in the mid-80s follows a bunch of college-aged kids in New Jersey who have summer jobs at the local country club. The storylines are ok, the acting is solid, and the casting is spot on – particularly with Craig Roberts in the lead role as David, Paul Reiser as the country club President and Wall Street trader, his wife played by Gina Gershon, and – in particular – Ennis Esmer as the aging, playboy tennis pro at the club. Two seasons are available now with a third coming. GorT has a fondness for much of the music featured in the series given that he is 4-5 years younger than the main characters but grew up with the same tunes.

GorT awards it 7 out of 10 sleestaks
The Expanse
GorT, unsurprisingly, is a Science Fiction fan and believes that we're in a drought of good science fiction on television today. The revamped Battlestar Galactica (BSG) was a stand out and few series since have been good. I've mentioned Dark Matter as a decent, throw-away* series but The Expanse, from the SyFy Channel, is a solid effort. The storyline is complex and engaging. The story, set 200 years from now, pushes the future just enough to be believable but create an interesting "universe" for the series. It pulls a thread from a seemingly isolated incident to one that involves multiple faction conflict. GorT is starting season 2 and looks forward to enjoying it.

GorT awards it 8½ out of 10 sleestaks
Father Brown
Based on G.K. Chesterton's mysteries written a hundred years ago, stars Mark Williams, notable as Mr. Arthur Weasley from the Harry Potter series, as the main character who solves local mysteries via his intuitive abilities. While a bit campy and shallow in the plot, the series is well done and enjoyable with characters that you get to know and enjoy. I assume that the creators worry that the more complex plots of Chesterton's originals would be too much to accomplish in a single episode TV show.

GorT awards it 7 out of 10 sleestaks
Shetland
GorT has a thing for British mystery** shows – Father Brown is one, and I've mentioned others in the past: Death in Paradise, Sherlock, The Bletchley Circle, and Broadchurch. And Netflix' recommendation algorithm*** works really well and popped up Shetland as a potential candidate for GorT to watch. Well, I pretty much binged it over the past few weeks – mostly while on the treadmill, but the final season on Netflix (Season 3) held me such that I finished off the last two episodes in one sitting. It's a smart mystery series set on the Shetland Islands in the North Sea between Scotland and Norway. A bit like Hinterland, a series set in Wales, the show focuses on a small police force solving crimes in the remote area. The main character has a good backstory that gets developed over the seasons and the supporting cast is solid with some good dry humor tossed in to lighten it up.

GorT awards it 8 out of 10 sleestaks
If you've got thoughts on these or other series, drop me a line. Plus, maybe this will form up into a podcast episode in the near future.
* by throw-away, I mean that it doesn't involve deep thinking where you have to be mentally engaged with the show for the entire time. GorT needs a distraction on the treadmill, not a mental workout as well as physical
** and British naval shows to include Hornblower and Master & Commander
*** the algorithm works until your kids find it funny to add Caillou, Higgletown Heroes, and other random shows to my profile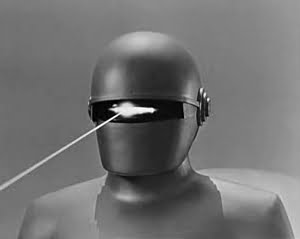 GorT is an eight-foot-tall robot from the 51ˢᵗ Century who routinely time-travels to steal expensive technology from the future and return it to the past for retroinvention. The profits from this pay all the Gormogons' bills, including subsidizing this website. Some of the products he has introduced from the future include oven mitts, the Guinness widget, Oxy-Clean, and Dr. Pepper. Due to his immense cybernetic brain, GorT is able to produce a post in 0.023 seconds and research it in even less time. Only 'Puter spends less time on research. GorT speaks entirely in zeros and ones, but occasionally throws in a ڭ to annoy the Volgi. He is a massive proponent of science, technology, and energy development, and enjoys nothing more than taking the Czar's more interesting scientific theories, going into the past, publishing them as his own, and then returning to take credit for them. He is the only Gormogon who is capable of doing math. Possessed of incredible strength, he understands the awesome responsibility that follows and only uses it to hurt people.