The Czar is by no means finished with his summer, least of all does he contemplate putting away any of his extensive platoon of grilling equipment. However, the Czar has noticed that his collection of ideas for the platoon was growing quite large. Some days ago, the Czar decided that Labor Day would be the day to make all of the various things that have been gathering in his head.
Everything was a compete success, and we wound up with so much food that neighbors had to come help up demolish the plattersfull of food. The Czar thought he'd share his recipes with you loyalists, given that they indeed worked.
Also, to help those who are pairing impaired, the Czar will provide a drink recommendation for each.
Vietnamese Halibut Spring Rolls
This took the most time to prepare and the least amount of time to eat. While delicious, the efficiency of this dish is a little odd. Not sure we would make it again, given the work load. Maybe if we were making a huge amount, perhaps, but this wound up being a quick lunch, despite the effort.
Spring Rolls
12 oz halibut fillets, 1″ thick
3 tbs sriracha sauce
4 large round rice paper wrappers
1 cucumber, julienned
1 carrot, julienned
2 radishes, julienned
2 scallions, julienned rings
3 oz roughly chopped lettuce (about 2 cups)
3 tbs freshly chopped mint
3 tbs freshly chopped cilantro
Sauce
1/2 cup lime juice
2 tbs sugar
3 tbs fish sauce
1 tbs soy sauce
1 tbs grated ginger
1 tbs minced lemon grass
1 minced garlic clove
Brush fillets on both sides with only 2 tbs of the sriracha and grill both sides on a gas grill about 6 minutes each until the fish turns white and begins to flake. Peel off and discard the skin; if done right, this will be easy to do as the skin is very crispy and just comes off in one piece.
Break the fish into chunks and toss with remaining tablespoon of the sriracha. Soak one sheet of the rice paper for 10 seconds in very warm water (not hot!) until soft. The paper will feel very tacky and may try to stick to itself. Place the first sheet on a cutting board and blot dry. Pile on the halibut and vegetables and greens on the rice paper and roll. Then start the second one… you should have enough for about four of these rolls. Avoid doing two or more paper sheets at the same time because they love to stick to each other and get hard to separate.
Combine the sauce ingredients together and dip the rolls into the sauce.
Recommended beverage: Nitro Milk Stout
Smoked Pork Tenderloin
Take two pork tenderloins and rinse them under cold water to remove blood and goo. Blot them dry with a paper towel and place them on a cookie sheet.
Brush them lightly with maple syrup. Use the cheap stuff in the big Costco bottle; yeah, real maple syrup is way more awesome, but you're putting so little on that it would be awfully expensive for the effort.
Rub them thoroughly with your favorite rub. We use the same kind we use for ribs,
Smoke them at 200° for about two hours, until the internal temperature is 145° on your instant read thermometer. The Czar used pecan wood.
Recommended beverage: Nitro Milk Stout
Catfish Fillets
Sprinkle 6 eight-oz fillets with sea salt, black pepper, and onion powder.
Smoke at 200° for 60 to 90 minutes (we used cherry wood). Ours were done in 75 minutes, and we could tell because they were moist and flaky. The Czar is not a big fan of catfish, but this was the best he ever had. We demolished an entire fillet in seconds.
Recommended beverage: Nitro Milk Stout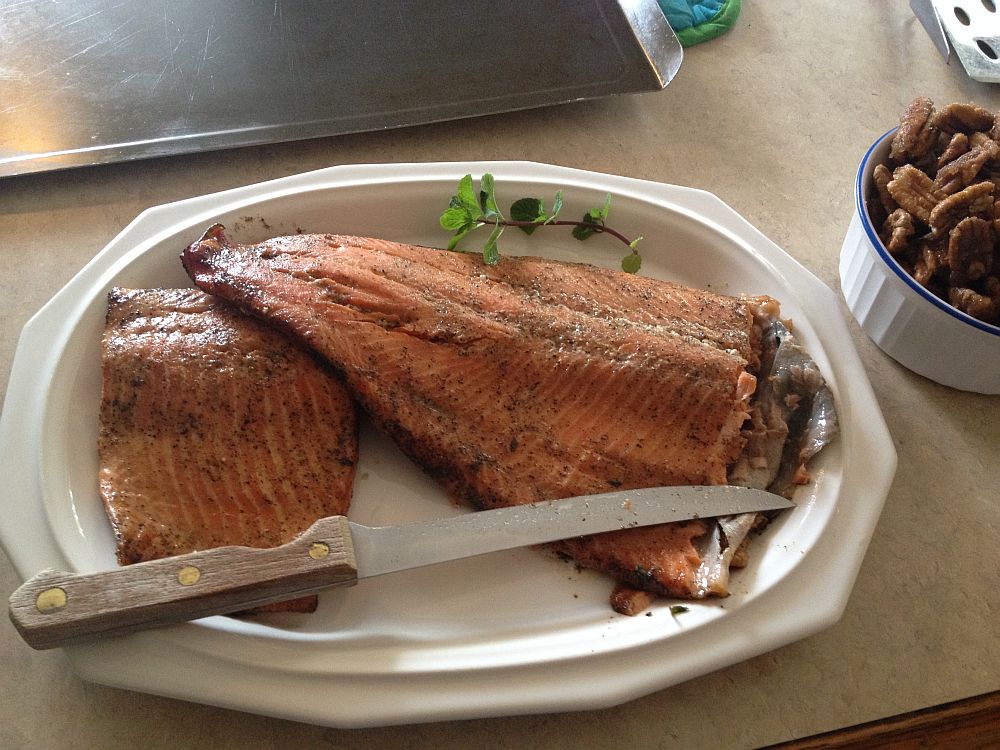 Mint Trout
This sounds strange, but by God was this the hit of the feast.
Mint Paste
3/4 cup fresh mint leaves
1/4 cup sea salt
1/4 cup sugar
2 tbs black pepper
2 tbs lemon juice
1 tbs vegetable oil
1-1/2 lbs trout fillets (we got steelhead at a great price)
Mop Sauce
2 cup of mint tea brewed from 4 mint tea bags
Coat fillets with the paste and wrap in plastic. We should warn you it looks terrible: the pepper dies the paste a gunmetal black. Refrigerate this if you're not going right on the smoker.
Bring your smoker to 200° and mop the fillets with the tea. This will clear off some of the paste, but don't worry.
Smoke these for 30-45 minutes (we used cherry, and placed them right next to the catfish). The paste will clear, revealing the beautiful color of the fish.
When done, mop the fillets heavily, letting the tea wash off the black pepper paste and bits of chopped mint. Despite the paste and the tea, there's only the slightest hint of mint in the taste. You will taste the black pepper, though, but it's not strong. In fact, as we said, the guests thought this was the best of the feast.
Recommended beverage: Nitro Milk Stout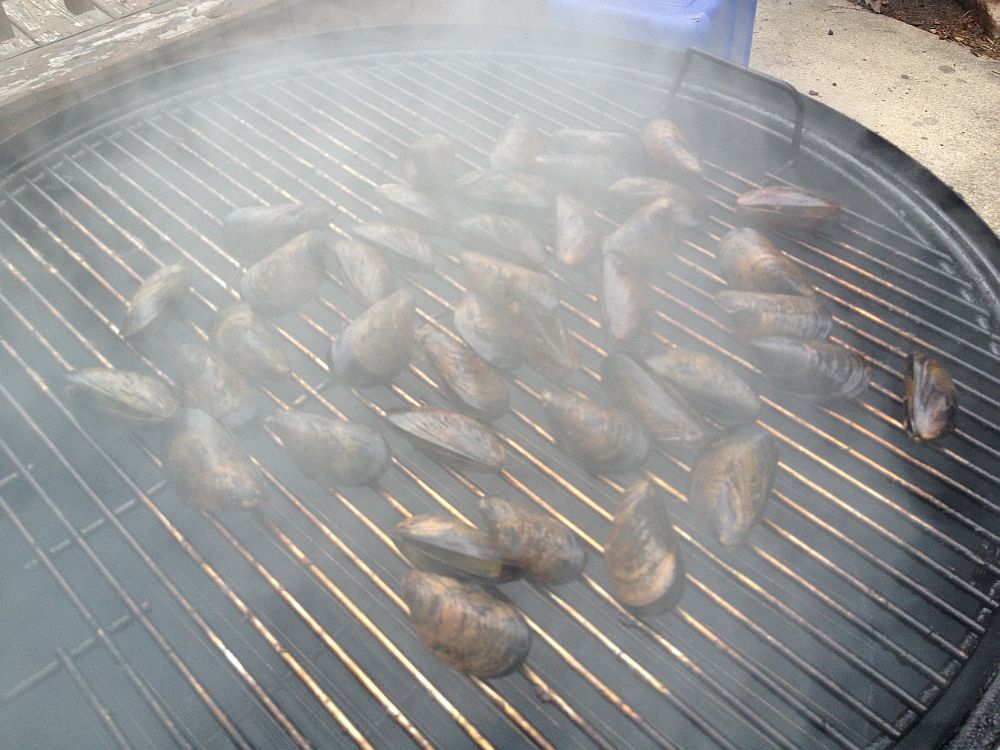 Mussels
Get hold of a bunch of fresh mussels, and wash them in a few changes of cold water. Throw out any that are open.
Place them on the smoker and smoke them at 20-30 minutes at 200° or 225° until they open. We used oak wood, which we highly recommend for mussels, but you can use whatever.
After the 20 minute mark, check them frequently (about every 5 minutes). You don't want to overcook these: they're done when they pop open a quarter-inch or more. If nearly all of them have opened, get them off the grill fast. Throw out any that didn't open: you don't want to eat these.
Serve them with melted butter mixed with a heavy pinch of garlic powder and sea salt, or throw them into a pasta or soup. If you're not a mussel eater, all you need to do is pry the open ones with your fingers (it's easy), and pluck out the meat. This isn't oyster shucking: anyone can do it. The Цесаревич volunteered for this, and he did about 30 of them in three minutes.
And if you're still not into mussels, neither was one of our guests until he tried it. He declared them better than lobster.
Recommended beverage: Nitro Milk Stout
Balsamic Pecans
Hey, this is fun and easy. You can see these to the side of the trout platter, above.
3/4 cup sugar
1/4 cup balsamic vinegar
1 pound raw pecan halves
Pinch or two of sea salt
On a gas grill, coat the bottom of a skillet pan with vinegar and sugar, and stir until the sugar dissolves. This takes about 5 minutes on high heat.
Add the pecans and stir quickly to cover them. Turn off the burner and bring the skillet indoors. Place a cover over the skillet until the liquid is a thick syrup (takes about 6 to 8 minutes).
Sprinkle the salt over the pecans.
Spread the pecans onto one, flat layer and let them cool for at least 5 minutes. Break them apart into single pieces, if any stick together.
Recommended beverage: Nitro Milk Stout
Hot Dogs
Um, yeah. We may have mentioned it before, but hot dogs on the smoker are truly incredible.
When you're smoking something—like the tenderloin above—open a pack of hot dogs (really, you know which ones are the best) and place them on the smoker grate, around whatever you're smoking already.
Let them sit there for 60 minutes, and they're done. Kids love the smoky flavor. Eat them on a bun (the hot dogs, not the kids) with whatever their favorite condiments are.
The Czar loves hot dogs on the smoker because after smelling the smoker for an hour, you're ridiculously hungry. Since these take an hour, they're ready at exactly the best moment.
Also, if you aren't into hot dogs, throw on some raw chicken wings. One hour later and you have perfectly smoked wings, ideal for lunch or a party snack.
Recommended beverage: Nitro Milk Stout
You know, the Czar would have put this up yesterday, but he, uh, wasn't too sure how any of these would work. But work they did, so you can try any of these with confidence at your next backyard bender.

Божію Поспѣшествующею Милостію Мы, Дима Грозный Императоръ и Самодержецъ Всероссiйскiй, цѣсарь Московскiй. The Czar was born in the steppes of Russia in 1267, and was cheated out of total control of all Russia upon the death of Boris Mikhailovich, who replaced Alexander Yaroslav Nevsky in 1263. However, in 1283, our Czar was passed over due to a clerical error and the rule of all Russia went to his second cousin Daniil (Даниил Александрович), whom Czar still resents. As a half-hearted apology, the Czar was awarded control over Muscovy, inconveniently located 5,000 miles away just outside Chicago. He now spends his time seething about this and writing about other stuff that bothers him.