I thought pixels were mined…OR #LIRPALOOF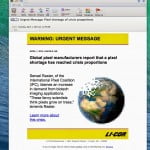 Gentle Readers,
Dr. J. received this missive in his email today:
Dr. J. scratched his head on this one because, he was of the understanding that pixels came from pixel mines in remote deserts such as the Jundland Wastes.
Nevertheless he clicked on the link.
It was the best prank of the day. Sorry, Nashville Scene, you came in second. Doctor Who TV, third.
Happy April Fools Day.