Space the big-ass frontier…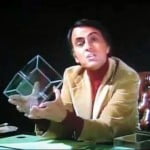 Hypercubes are cool.
Dr. J., like GorT, checked out Neil deGrasse Tyson's Cosmos deux. He will re-watch the episode as he didn't quite finish it out because he had a case of the sleepies. While he found the pacing a little slow for the modern era (Carl Sagan was acceptably lugubrious back in 1980), the visuals, however were stunning. Dr. J. was distracted, as he was also working on some paperwork while watching. It also chaffed Dr. J.'s ass that he opened up his DVR file to watch Neil and he got Barack 'Shut Down the Space Program' Obama introducing the show. Big time #fail there. Furthermore, Dr. J. doesn't know what to make of science celeb Neil deGrasse Tyson in general.
He's certainly a friendly guy. Dr. J. met him back around 2000 when Dr. J. and Mrs. Dr. J. were courting, and on a trip to New York to visit her family, we spent a day in Manhattan which included a trip to the newly opened Hayden Planetarium. He was at the doorway of the planetarium, greeting the guests as they walked in, and he and Dr. J. had the opportunity to chat about the beautiful new facility. There was a certain element of 'before he was famous' but museum based astronomers are notoriously nice folk regardless. His counterpart at the Franklin Institute was cut from the same cloth, based on Dr. J.'s many visits there as a youth. However, Dr. J. thinks he nitpicks too much, such as when he tweaked Titanic for having the sky wrong. James Cameron fixed it out of embarrassment for the re-release. Also, his brand of agnosticism is a little smug for Dr. J.'s taste. He's no Richard Dawkins (angry atheist), thank goodness, but rather than being a humble agnostic, he's more of a bet-hedging agnostic.
Like GorT, Dr. J. will be tuned in for the duration.
But, this post is NOT about Cosmos.
This is about something cool Dr. J. saw on teh interwebz.
Josh Worth made a 'to scale' solar system based on the moon being one pixel. If you wanted to conceptualize and understand the vastness of space, click here. It will be 5 minutes well spent.