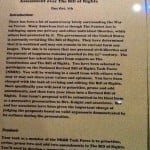 Many are blaming the "Common Core" teaching curriculum for the subject of this post but GorT might point at a more broad problem with our approach to education in this country. Plainly put, GorT thinks that teachers should be paid significantly more than they are now on average, but also be accountable for teaching effectively – this doesn't mean to measure success solely by the grades or scores that his or her students receive but they should be periodically evaluated. This should include a review of their lesson plans, testing methodology, etc. And yes, there should be some room for subjective judgement to capture the intangibles that come with that territory.
Moving on to the item at hand. A sixth grade teacher in Arkansas gave the following assignment to her class:
Of particular note to Gort was the phrase, "The government of the United States is currently revisiting The Bill of Rights. They have determined that it is outdated and may not remain in its current form any longer." While thankfully, that isn't true…currently…..floating it as a premise to an assignment is baloney. Not being one to criticize without some constructive ideas, GorT would have offered the following: "You are a group of delegates representing your constituents in the new country Sasnakra. The delegates have agreed to model their government after the United States but want to put their own mark on their version of the Bill of Rights. Considering first ten amendments to the United States' Constitution, would you keep them all, if not, which ones and why? Would you reword any and if so, in what way? Would you add any to the foundational set of rights for Sasnakra?"
As a parent pointed out, these sixth graders have received no education on what it takes to amend or change the Constitution. And here is where GorT believes that the American education system has failed. For many, basic civics classes are covered until the high school level and sometimes not even until the university level, if one takes such a class (GorT did at his engineering school). GorT's approach abstracts the problem where such a foundation is not needed for the assignment. That isn't to say that such a foundation isn't needed. Actually, GorT thinks that middle school (6th to 8th grade) is about the right time to teach the basics of American civics. But taking the assignment as an exercise to discuss the Constitution and Bill of Rights, likely in the context of a social studies / history class, I think GorT's take tackles it. It prompts the students to think critically about each one and leaves the opportunity there for a student (or group of students) to argue that the first ten amendments are great as is.
Promoting the idea, even abstractly in an assignment like this, that the Bill of Rights is outdated is dangerous. Let's say that you support such thinking then what would you think about another group who believes that "life, liberty and the pursuit of happiness" is outdated as well?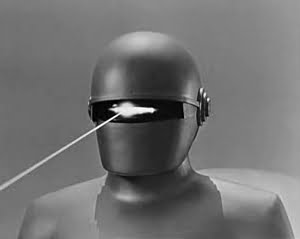 GorT is an eight-foot-tall robot from the 51ˢᵗ Century who routinely time-travels to steal expensive technology from the future and return it to the past for retroinvention. The profits from this pay all the Gormogons' bills, including subsidizing this website. Some of the products he has introduced from the future include oven mitts, the Guinness widget, Oxy-Clean, and Dr. Pepper. Due to his immense cybernetic brain, GorT is able to produce a post in 0.023 seconds and research it in even less time. Only 'Puter spends less time on research. GorT speaks entirely in zeros and ones, but occasionally throws in a ڭ to annoy the Volgi. He is a massive proponent of science, technology, and energy development, and enjoys nothing more than taking the Czar's more interesting scientific theories, going into the past, publishing them as his own, and then returning to take credit for them. He is the only Gormogon who is capable of doing math. Possessed of incredible strength, he understands the awesome responsibility that follows and only uses it to hurt people.