Mailbag – old New York was once New Amsterdam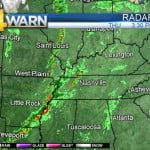 The Retired Spook writes:
Dear Dr. J; I don't suppose I could prevail upon your inherent good nature to have Mandy target the Anti-Snow Ray about 100 miles further south, could I?
It's nothing personal, but growing up in Alabama, and being marooned in the Midwest for many years, I've already seen all the snow I EVER want to see.
Temps here should be in the mid-60s by Monday. It could be like that all winter, then get nice in the spring, and I'd be just fine with that.
Best wishes, Retired Spook
Dear Spook,
We would love to set the Eye of Warm-on on Alabama, but we're still working the bugs out:
Mandy wanted to call it the Butterfly Effect, but that was taken, so he's calling it the Moth Effect. New Atlantis is getting a nice little line of storms tonight after our #snowdome created a 78˚F bubble around us that burst today. Wait for primetime, seriously.
Dear Dr. J:
Your map is very interesting, but we have seen maps like this before.
Apart from the straight-historical:
There is the much more interesting map of the alternate-history Republik* van Nieuw Nederland:
This looks like a high school homework project, but it is cool nonetheless.
A fuller account of the history of the country is found here.
—
Mark Spahn (West Seneca, Erie Province, Republik van Nieuw Nederland)
*The "correct" spelling is "Republiek", but spellings differ slightly between North America and Europe in both the Dutch and English languages.
Dear Mark,
Thanks for writing in with these interesting maps of Mrs. Dr. J.'s homeland. It is a truly beautiful area, top to bottom, unfortunately, Albany is running everyone with a lick of sense to neighboring states, assuming the New York cache will keep folks there. It can only do so for so long.
Dr. J.