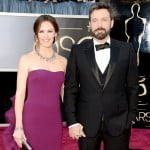 Marrying Jennifer Garner was his best career move…
Gentle Readers,
Dr. J. was shocked today to learn that Ben Affleck was tapped to play Batman in the upcoming Superman/Batman sequel to Man of Steel.
Really? Seriously?
No disrespect to Mr. Affleck (well, maybe some), but Dr. J. cannot see Ben Affleck as Bruce Wayne or Batman. Green Arrow, maybe. Guy Gardner Green Lantern? Possibly. Booster Gold? Probably.
When you look at his body of work, he has played a legion of working or middle class schmoes, some of which were extreme douchebags. While Dr. J.'s missed Argo, his prior works have left Dr. J. saying meh. Thus, he never got around to Argo. Maybe when it gets to cable, maybe…if it can displace M*A*S*H re-runs.
So, who would Dr. J. pick over Affleck. Well, for starters, Octagenarian Adam West, if he plays him straight would do a better job, but Dr. J. isn't calling ole Adam to reprise his role.
One of our loyal minions Bill Godbold (@wfgodbold) suggested Jim Caviezel:
@Gormogons @JonahNRO @ADPEfferson Best suggestion I've seen is Jim Caviezel.
— Bill Godbold (@wfgodbold) August 23, 2013
Dr. J. thought he was a great Jesus in The Passion. Brutal movie that one. You can see him rockin' the Bruce Wayne vibe in this picture.
But what Dr. J. believes is that you need the World's Greatest Detective™ and with that Dr. J. suggests another British actor to join British Superman, Benedict Cumberbatch
Holmes, Khan, Smaug, the Necromancer, and now Batman, sign him up!
Dr. J. believes Cumberbatch would bring the darkness and the intellect necessary to make Batman a legitimate threat to Superman. After all their friendship (except during the Alan Soule years) is more of a detente then a couple of besties palling around.
The other choice is a guy who's already donned the cowl twice, none other than Bruce Greenwood
Dr. J. didn't want a Trek picture.
Bruce Greenwood did the voiceover work for Batman in the DC animated video, "Under the Red Hood" where Batman and Nightwing do battle with the mysterious Red Hood. He also voiced Batman in Dr. J.'s favorite animated superhero cartoon, Young Justice. His voice work was fantastic, his voice was the voice of Batman and Bruce Wayne. Dr. J. even likes him better than Kevin Conroy (blasphemy, I know). Above Dr. J. took a picture of him from the 2012 film,Flight, and yeah, you can see him as Bruce Wayne.
Now you, our gentle reader, may take umbrage with Dr. J.'s suggestions. That is fine, just write in and let him know.