Ben Affleck. Yeah, That Says It All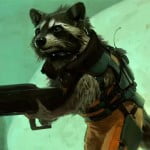 Some thoughts on this Ben Affleck casting of Batman.
Rocket Raccoon. Come on, even though the idea is preposterous, you have to admit…this is a badass-looking raccon. And he has a machine gun. Imagine if he had a great voice actor. The boys here at the dacha are rooting for David Tennant; that would work, no?
DC Comics is completely unable to beat their chief rival Marvel. That's basically all there is. Ben Affleck is nothing more than two-year-old stunt casting.
Perhaps the most accurate assessment of the Marvel vs. DC Comics competition is summed up in this tweet:
DC/WB is all like "Wonder Woman's too confusing for a movie!" and Marvel/Disney is all like "Here's a raccoon with a machine gun"

— Brett White (@brettwhite) August 12, 2013
Let us explain for the uninitiated. DC Comics owns the titles of Superman, Batman, Flash, Wonder Woman, and Green Lantern. Famous names all, and they would potentially make great movies— if DC Comics would simply run with the characters as comic book icons, instead of constantly trying to reinvent the characters for the 21st Century as liberal, tortured souls looking to re-establish themselves in a post-moden world of darkness and grittiness.
Marvel Comics, who boasts knock-out titles like Spider-Man, Iron Man, the Hulk, Captain America, and Thor, have been basically pushing their characters on the movie-going public with little modification. One of the movies coming out soon is based on a largely ignored title Guardians of the Galaxy, which includes a character who is a genuine raccoon. The raccoon was genetically modified or whatever, and now has human intelligence and is a great shot with a machine gun.
Hence the tweet: while DC Comics continues to rub their hands in worry about how to best portray Wonder Woman in a gritty, post-feminine pro-American conglomerate that factors in the cynical disconnect of the new normal, Marvel Comics is looking toward making a billion bucks running a third-rate title that involves a damned raccoon. With a machine gun.
Perhaps it is all because Marvel is not looking at reinventing a classic icon for a brutal, dark modern time…but is happy to float a wickedly clever character with no apologies to the Hollywood set.
Jon Favreau is no friend of Republicans, but he made an unabashedly pro-American Iron Man. Joss Wedon, also a big Obama supporter, promoted The Avengers with specifically pro-Stars and Stripes symbolism with Captain America. As was pointed out in the film, American needs a little Red, White, and Blue. The Captain America film itself was indeed a slap at liberal anti-American cynicism. Throughout most Marvel movies, you find an America-is-pretty-great message.
DC Comics is getting their tails kicked by Marvel. Instead of constant hand-wringing about portraying their classic characters in a gritty, darker fashion, perhaps DC should either throw in the towel, or simply adopt Marvel's strategy of running with what works. Your thoughts are welcome, as Dr. J. noted. But it's safe to say that DC Comics, as long as it continues to fret over appealing to liberal sensibilities, is going to lose out big-time to a raccoon with a machine gun.

Божію Поспѣшествующею Милостію Мы, Дима Грозный Императоръ и Самодержецъ Всероссiйскiй, цѣсарь Московскiй. The Czar was born in the steppes of Russia in 1267, and was cheated out of total control of all Russia upon the death of Boris Mikhailovich, who replaced Alexander Yaroslav Nevsky in 1263. However, in 1283, our Czar was passed over due to a clerical error and the rule of all Russia went to his second cousin Daniil (Даниил Александрович), whom Czar still resents. As a half-hearted apology, the Czar was awarded control over Muscovy, inconveniently located 5,000 miles away just outside Chicago. He now spends his time seething about this and writing about other stuff that bothers him.