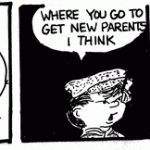 Dr. J. loves the comics, yeah, yeah, including lefty comics like Doonesbury, the late Bloom County and Boondocks. Even Wee Pals, despite being Peanuts joins the Rainbow Coalition has its moments. Funny is funny. As he doesn't receive a daily newspaper, he gets his comics via an online subscription.
This Wee Pals cartoon came in yesterday's email:
Dr. J. doesn't get it. Perhaps you can explain it to him because he finds Planned Parenthood as funny as a heart attack. Perhaps it is an attempt at irony, especially given the love Margaret Sanger would have for the diverse cast of characters in this strip.
That being said, Dr. J. has this message for the little girl in the strip: "You darn well better be satisfied with your parents, they probably didn't attend Planned Parenthood meetings either, otherwise you wouldn't be here!"