Change you can believe in!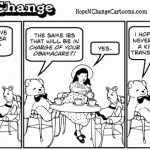 Dr. J. saw this over at IMAO. They poached it from the original source, Hope n' Change Cartoons.*
Don't have too many Harvey Wallbangers at the Leaping Peacock…
By the way, Dr. J. learned how to do transplant-grade nephrectomies back in medical school…black market kidneys, he'll make a killing!
* Reggie Love could not be reached for comment.