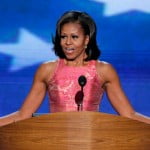 The other day, at a commencement speech, michelle Obama stated:
And then there's this guy Barack Obama. … I could take up a whole afternoon talking about his failures, but he lost his first race for Congress, and now he gets to call himself my husband.
The Czar then noted she added:
All jokes aside, the point is that that resilience and grit, that ability to pick yourself up when you fall, those are some of the most important skills you'll need as you make your way through college and through life.
Does the Czar depict a pattern here? A reassurance in one of her speeches that her husband is just a regular guy…but not quite, because he is so much better than people think. He's really not a goofball.
Like many first ladies, Michelle Obama has been better than her husband at the respective role. But her speeches are starting to follow a weird pattern. Here's why.
Longtime consigliere BG suggested the Czar research this, and indeed we did. Consider her speech at the DNC last year:
You see, even though back then Barack was a Senator and a presidential candidate…to me, he was still the guy who'd picked me up for our dates in a car that was so rusted out, I could actually see the pavement going by through a hole in the passenger side door…he was the guy whose proudest possession was a coffee table he'd found in a dumpster, and whose only pair of decent shoes was half a size too small….I love that he's never forgotten how he started. I love that we can trust Barack to do what he says he's going to do, even when it's hard – especially when it's hard. I love that for Barack, there is no such thing as "us" and "them" – he doesn't care whether you're a Democrat, a Republican, or none of the above…he knows that we all love our country…and he's always ready to listen to good ideas…he's always looking for the very best in everyone he meets.
She followed almost this exact pattern at the 2008 DNC:
And you know, what struck me when I first met Barack was that even though he had this funny name, even though he'd grown up all the way across the continent in Hawaii, his family was so much like mine. He was raised by grandparents who were working class folks just like my parents, and by a single mother who struggled to pay the bills just like we did. Like my family, they scrimped and saved so that he could have opportunities they never had themselves. And Barack and I were raised with so many of the same values: that you work hard for what you want in life; that your word is your bond and you do what you say you're going to do; that you treat people with dignity and respect, even if you don't know them, and even if you don't agree with them.
In other speeches, she has explained that although he still like to have "steak and potatoes" with her at dinner, her "husband is handsome and charming and incredibly smart–yes, indeed–that is not why I married him," and "[w]hat truly made me fall in love with Barack Obama was something that you all see every day–it is his character. It's his decency and his honesty, the compassion and conviction that we have seen for four years in this man."
Same theme: "Barack is a human being with flaws. And I can rattle down all the flaws and tease him about them every day, but those flaws are not fundamental. They don't hit upon things that are intolerable to me. In terms of his core values, he has never disappointed me. He is a very consistent person—which is why I knew unequivocally that he would be a phenomenal president. He is steady."
Okay, you get the point, this essay is getting long, and the Czar had a lot of Google hits with quotes of hers.
This seems to flow from the narrative the Democrats wanted to paint that Barack Obama—Barry, really—is just an ordinary guy from humble beginnings called upon to do great things, and not a spoiled weed-smoker who grew up in considerably comfortable circumstances in Hawaii, no less, and has been catered to his whole life.
Instead, this is more of a "My husband is such a pain in the ass, but what a great guy he is deep down" message. It's one thing for Mrs. Obama to say her husband is a regular guy; it's another thing to mock him, only to follow that teasing with reassurances that he is, indeed, truly superhuman. It is a very strange message, and it makes sense if you look at it another way: she is an apologist. Yes, yes, he can be a challenge, but really he isn't all that bad. Just get to know him.
Keep watching. Now, the Czar neither promotes nor tolerates the idea that the Obamas have trouble in their marriage. Compared to other politicians, the two are quite impressive in their ability to raise two daughters. This isn't a request to look for cracks in the foundation: just a suggestion to note how she follows a tease-then-praise pattern someone is scripting for her. And ask yourself if it doesn't sound like an apology for someone who disappointed you.

Божію Поспѣшествующею Милостію Мы, Дима Грозный Императоръ и Самодержецъ Всероссiйскiй, цѣсарь Московскiй. The Czar was born in the steppes of Russia in 1267, and was cheated out of total control of all Russia upon the death of Boris Mikhailovich, who replaced Alexander Yaroslav Nevsky in 1263. However, in 1283, our Czar was passed over due to a clerical error and the rule of all Russia went to his second cousin Daniil (Даниил Александрович), whom Czar still resents. As a half-hearted apology, the Czar was awarded control over Muscovy, inconveniently located 5,000 miles away just outside Chicago. He now spends his time seething about this and writing about other stuff that bothers him.