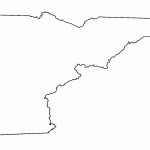 Looks more like a pop-tart.
Senator Mikulski and Congressman Steny Hoyer of Maryland have submitted legislation to their respective houses of Congress today to have Idaho's statehood rescinded as its shape is reminiscent of a gun and therefore has no place in public schools.
When asked how the negative space created by the unstate on the map that will still look like a gun will be addressed, the Senator's office said the Governors of Washington and Oregon will have that covered. Mr. Hoyer's office could not be reached for comment.
h/t The Blaze