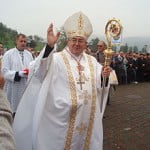 By now, you have all seen Confucius'* post about the 265th Gormogon Papal Conclave Lottery. The Czar has participated in almost 70 of these, and certainly it can be hard to choose among them. So the Czar has put together another pretty helpful guide to some of the odds-on favorites to become the next late Pope. We ain't sayin' the next pope will for sure be one of these guys, but it wouldn't hurt your chances to know about these eight rising stars in the whole Unam sanctam catholicam apostolicam ecclesiam, would it?
| | |
| --- | --- |
| | Vinko Puljić: He's the sixth and current Archbishop of Vrhbosna, and weight in at a solid 225. Puljić started out in Brazilian Jujitsu but quickly adopted a stronger boxing strategy. His ground game remains strong, though, and you'd be a fool to try to get him in a guard. With a solid combination of uppercuts and overhand rights, Puljić can fight at intermediate ranges, and that's a big reason he's gone 122-2 since going pro. |
| | Polycarp Pengo: Nicknamed "Poly-carp-and-pain-go,&#148l or the man of many loaves and fishes, this plucky Sumbawangan is new to the world of professional modeling. In the short time since he's moved on from beauty pagents, Pengo has conquered the runway scene, drawing top acclaim during the Paris été2010 exhibition; good luck finding any attendee who remembers the lineup, but they all remember Pengo. Look for an explosive Spring fashion takeover by the former Mr. Dar-es-Salaam. |
| | Crescenzio Sepe: A raucous and sometimes slapdash blend of David Copperfield illusion and good, old-fashioned street-sensed busking, few Napolitan pedestrians are unimpressed with this delightful master of juggling, card tricks, and humor. Be sure to play his Three Card Monte, where everyone is a winner, and stakes are pure comedy. |
| | Seán Brady: Starting out as a wide receiver in high school, an alert Senior-year coach realized that Brady can throw a football. Although not related to Tom, Seán Brady works well out of the pocket provided he has decent coverage. And if the offensive line is up to the task, Brady can go 70 yards long with a 2011 completion percentage of 60.6. If not elected Pope, look for Brady to sign with the NFL for 2014 as he finishes his senior year at Armagh University. |
| | Robert Sarah: Sarah had performed for local audiences for five years (Westward, The Caretaker) before winning a BPAT "Best Actor" award for his role as Demetrius in A Midsummer Night's Dream. A capable singer and dancer as well as dramatic actor, Sarah was also assistant director for last season's Murder at the Howard Johnson's for which he won a CAFTRA nomination. |
| | Kurt Koch: Ranging in taste from amusingly tart to a complicated blend of jammy overtones, you will be hard pressed to find a better merlot at the price. Koch is excellent with a variety of medium rare beefs and cheeses that are not heavily smoked. Not as dry as other merlots in this class, Koch has an excellent finish and bouquet, but does not keep particularly well. Best enjoyed within three years of purchase, and equally up to a solo glass offering at a social gathering. |
| | Baselios Cleemis: മോറന്‍ മോര്‍ ബസേലിയോസ് കര്‍ദിനാള്‍ ക്ലിമ്മിസ് കാതോലിക്ക ബാവ is to put it quite mildly, but Cleemis is not one to be put off by tough stains. Excellent on wood surfaces or even highly textured tile, he can remove anything from waxy buildup to Kurt Koch spills. Mild yet abrasive, without any lingering odors. Perfectly safe for stainless steel and brushed aluminum, and not caustic to your hands. Before using, test Cleemis on a small test area in a concealed place; Cleemis should be safe as it contains no chlorine bleaches. |
| | Kazimierz Nycz: Completely redone for 2013, Nycz is the perfect balance of luxury and performance. Streamlined and dynamic, Nycz is a welcome member in the hall of luxury performance masterpieces. With a stunning 3.8 liter twin turbo V8, Nycz boasts a confident 531 HP rating and a torque of 710 Nm in overboost. Look for 0 to 60 in 4.4 seconds and a top speed of 190 mph thanks to double continuous cam phasers on both cylinder heads. Relax: Nycz features Brembo brakes and a full complement of six airbags to protect you. And with a mileage of 22 mpg, you won't be running out of fuel anytime soon. |
*For those who came in late, Confucius is the Gormogons' Œcumenical Volgi.

Божію Поспѣшествующею Милостію Мы, Дима Грозный Императоръ и Самодержецъ Всероссiйскiй, цѣсарь Московскiй. The Czar was born in the steppes of Russia in 1267, and was cheated out of total control of all Russia upon the death of Boris Mikhailovich, who replaced Alexander Yaroslav Nevsky in 1263. However, in 1283, our Czar was passed over due to a clerical error and the rule of all Russia went to his second cousin Daniil (Даниил Александрович), whom Czar still resents. As a half-hearted apology, the Czar was awarded control over Muscovy, inconveniently located 5,000 miles away just outside Chicago. He now spends his time seething about this and writing about other stuff that bothers him.