This is how liberty dies…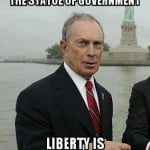 Puter tweeted (@gormogons, are you following us?) yesterday:
GP Congrats to @nygovcuomo, @nycmayorsoffice for driving NY to #1 ranking in least free states! Way to go! #failure freedominthe50states.org
— The Gormogons (@Gormogons) March 28, 2013
Mayor Bloomberg replied:
Anyone stop to tell this guy that he's getting out of control?