Literal Call To Arms: The Anti-Gun Freefall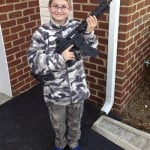 A chat at the Gormogon lobby bar the other day between Mandarin, Borepatch, and the Czar encouraged the Czar to paint this rather interesting analogy.
Indeed, this might be one of the most enduring images of the debate—rather than the bloody corpses of Newtown.
Imagine you are the leaders of an aggressive, nasty country. And you declare war on the dumb, dopey citizens of a neighboring country. You decide you have superior hardware in every way, well-trained and disciplined troops eager to overwhelm, and the provocation to attack.
You attack the other side and find resistance much stronger than you expected. And worse, you find your citizens defecting en masse to the other side. How bad is it? You begin to realize that your days are numbered because your citizens are no longer defecting: they are actually considering themselves citizens of the other country, happily abiding by their laws and carrying all the paperwork to prove it.
That's a pretty sorry position to be in, right?
After the Newtown shooting, the anti-gun crowd considered themselves in the best position they have ever been in. The President hates guns and has made it the Vice-President's personal mission to support your gun control policies. Sweeping anti-gun laws are introduced everywhere, and the propaganda machines start churning out messages that the Age of Guns is over. Never before has the anti-gun side been so well-positioned or empowered. Finally, the public will hear the whole story about guns, and will doubtless flock to conclude that guns must be off the streets.
Then, gun sales skyrocket. All 50 states are overwhelmed with applications for concealed carry permits, licenses, or identification cards. In Illinois alone, allegedly—a state regarded by many as thoroughly but erroneously anti-gun—applications for FOID cards swamp the issuing agency to where the annual 2013 goal is met by April. Nationally, the NRA takes on hundreds of thousands of new members—and in all cases, these are first-time applicants.
Things are so bad, we are told, that the anti-gun crowd is in total despair. Because they haven't started to lose the battle: they have lost the war some time ago and never realized it.
Actually, the anti-gun crowd has real reason to think so. The sheer number of people waiting in impossibly long lines to get their legal documentation in order is evidence that the anti-gun arguments are so bad that ordinary, reasonable, unbiased people are motivated to wait in those long lines.
As Mandarin pointed out, this isn't just a case of the average American saying "Huh. Well, now that I have heard both sides, I might just look into getting a permit some day." Rather, the average person is saying "Holy crap! I need to get a weapon now more than ever; and I don't care how long it takes or what hoops I have to jump through." That is how bad the gun control debate has gone for them. It doesn't just suck: you're driving them to the other side.
People aren't just rejecting gun control: hundreds of thousands of Americans are enthusiastically embracing firearm ownership. And this means the fight is about to get really nasty, as we are now entering the final bunker.

Божію Поспѣшествующею Милостію Мы, Дима Грозный Императоръ и Самодержецъ Всероссiйскiй, цѣсарь Московскiй. The Czar was born in the steppes of Russia in 1267, and was cheated out of total control of all Russia upon the death of Boris Mikhailovich, who replaced Alexander Yaroslav Nevsky in 1263. However, in 1283, our Czar was passed over due to a clerical error and the rule of all Russia went to his second cousin Daniil (Даниил Александрович), whom Czar still resents. As a half-hearted apology, the Czar was awarded control over Muscovy, inconveniently located 5,000 miles away just outside Chicago. He now spends his time seething about this and writing about other stuff that bothers him.