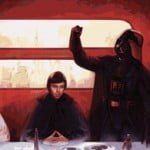 Nooooooooooo! Annie Hall won? Seriously?
Gentle Readers,
Dr. J. and Clan J. loves going to the movies. Consequently, Dr. J. loves to make his Oscar predictions. He doesn't watch the Oscars because he finds celebrity self-congradulatory adulation ponderous. He does like to see what the ladies are wearing as they walk in, and checks out the results before going to sleep. Some years he is more opinionated than others. This year his predictions are hamstrung by seeing virtually none of the nominated performances. But given his understanding of the Hollywood mindset, and his willingness to show his fallibility in areas of no consequence, he will share with you his predictions.
BEST PICTURE –
Beasts of the Southern Wild –
Silver Linings Playbook –
Zero Dark Thirty –
Lincoln –
Les Miserables –
Life of Pi –
Amour –
Django Unchained –
Argo
The best picture list is ridiculous. He gets Zero Dark Thirty (aka the Obama Reelection Campaign Film), Lincoln, Les Miserables and Life of Pi. Indeed, Lil Resident and Mrs. Dr. J. LOVED Les Mis. He's heard good things about Argo. Django Unchained, really? So 1995. He hasn't heard of Amour, an homage to euthanasia or Beasts or Silver Linings.

Dr. J. felt The Hobbit, Dark Knight Rises and The Avengers (well maybe not The Avengers) got the shaft. The Hobbit was, in his opinion, better than any individual Lord of the Rings outing. Perhaps Dr. J. didn't feel rushed through The Hobbit and as a consequence, enjoyed the leisurely pace through Middle Earth. Dr. J., like Peter Jackson figured, that that will be our last trip, so we can take our sweet time. Even the extended LOTR were heavily redacted with the absence of Tom Bombadil and the Scouring of the Shire. The Dark Knight Rises was seen recently by Dr. J. as it was one of his Christmas presents. He thought it was the best of the Nolan Batman movies, especially given the perhaps inadvertent right wing themes peppered throughout its story line and the intricacy of Talia-al-Ghul's scheme. It was more sophisticated than it was given credit for. The Avengers was a lot of fun and the big hit of the summer. Was it high art, heck no, but it was a lot of fun.

Dr. J. would like to give it to DKR, but he can't so it comes down to Zero Dark Thirty, Les Mis and Lincoln. He doesn't think Les Mis will get it because while it was supposed to be great, his friends who saw ZDT and Lincoln made those sound better. Given that Katherine Bigelow didn't get a director nod, his prediction is Lincoln
BEST DIRECTOR –
David O. Russell, Silver Lining's Playbook –
Michael Haneke, Amour –
Benh Zeitlin, Beasts of the Southern Wild –
Steven Spielberg, Lincoln –
Ang Lee, Life of Pi
Dr. J.'s only heard of Life of Pi and Lincoln before the nominations were announced. Ang Lee beat Spielberg before with Brokeback Mountain over Munich. Dr. J. bets the tables will be turned again this time. His prediction is Lincoln.

BEST ACTOR –
Daniel Day-Lewis, Lincoln –
Denzel Washington, Flight –
Bradley Cooper, Silver Linings Playbook –
Joaquin Phoenix, The Master –
Hugh Jackman, Les Miserables
Howard Stern said, "If you play a hooker or a retard, you're getting the Oscar." The closest thing we have to either in this category is Joaquin Phoenix who plays a violent WWII vet and thrall of Philip Seymour Hoffman in The Master. Jackman got props for Les Mis, and Daniel Day Lewis was supposed to be great as Lincoln. Conventional wisdom says Daniel Day Lewis, who is due, but Dr. J., based on Lil Resident's feelings, his prediction goes to Hugh Jackman. That being said, don't be shocked if Phoenix gets it.
BEST SUPPORTING ACTOR –
Christoph Waltz, Django Unchained –
Phillip Seymour Hoffman, The Master –
Robert De Niro, Silver Linings Playbook –
Alan Arkin, Argo –
Tommy Lee Jones, Lincoln
Hoffman and DeNiro have Best Actor awards, Jones and Arkin have a Supporting Actor awards. Tommy Lee Jones will win due to Lincoln-mentum more than any reason. If he doesn't, Hoffman.
BEST ACTRESS –
Naomi Watts, The Impossible –
Jessica Chastain, Zero Dark Thirty –
Jennifer Lawrence, Silver Linings Playbook –
Quvenzhane Wallis, Beasts of the Southern Wild –
Emmanuelle Riva, Amour
No hookers, no retards. Chastain for Zero Dark Thirty. She has buzz. Jennifer Lawrence is too conservative to win. And she isn't self-important enough.
BEST SUPPORTING ACTRESS –
Jackie Weaver, Silver Linings Playbook –
Helen Hunt, The Sessions –
Amy Adams, The Master –
Sally Field, Lincoln –
Anne Hathaway, Les Miserables
Helen Hunt is a sex therapist in The Sessions, spent half the film naked and reportedly put in a great performance. Anne Hathaway played the fallen women Fantine. Lil Resident thought Hathaway's performance was amazing, as did the AM AM guy. So you have two hookers, so to speak, in a single category. Dr. J. is going to go with Hathaway, however again don't underestimate Hollywood rewarding a performance like Helen Hunt's.
BEST ANIMATED FEATURE –
Frankenweenie –
Wreck-It Ralph –
Paranorman –
Brave –
Pirates: A Band of Misfits
This is the category Dr. J. is most informed to speak of. Lil Resident and Dr. J. both go with Wreck-It-Ralph. Since Disney acquired Pixar, the Pixar movies have become more Disney and Vice Versa. Brave was really enjoyable, but the second half was rushed. Dr. J. would have gone all Joseph Campbell Hero's Journey on the script. Wreck-It-Ralph had great performances, visuals, a neat concept and a plot twist that blindsided Dr. J. besides Sarah Silverman, who Dr. J. typically finds loathsome was adorable as Vanillope. The film made Dr. J. nostalgic for simpler times and the 8 bit processors. The kids hated Frankinweenie, won't sit through Pirates when it is on during kids night at New Atlantis Country Club, and Paranorman was only OK.
BEST ANIMATED SHORT FILM –
Adam and Dog –
Fresh Guacamole –
Head over Heels –
Maggie Simpson in "The Longest Daycare" –
Paperman –
Dr. J. was surprised La Luna didn't make the cut. He has seen The Longest Daycare which was hilarious, but thought Paperman, which opened for Ice Age IV, was both clever, and moving. His nod goes to Paperman.

With that you have Dr. J.'s predictions.