Democrat Primary Debate 2
*GorT copies yesterday's posts, updates names, pastes for the post today on the 2nd debate. Done*
Well, reader, that would be the quickest way to get a summary of last night's second round of of the NBC-Democrat-Train-Wreck-of-a-Debate but we here at the Castle don't shortcut things. This is going to be a longer post. So here we go.
In summary, the debate did not disappoint. It was freaking (and freakingly) AWESOME. The train wreck continued – crazy, ill-informed answers, someone from New York interrupting others, multiple candidates talking on top of each other, complete ignorance of the stated format, NBC technical difficulties, etc.
First, it's clear the Democrats want to expand Medicare to be the single-payer health care insurance system for the country – regardless of the cost. Bernie Sanders went so far as to say that he would raise taxes on the middle class to cover the costs of such a system.
Second, the Democrats' view of our economy is this: it is the federal government versus the private sector. Seriously. Re-listen to the debate last night and no one said that they would "work with" or drive solutions using or "with the help" of the private sector. Nope. We got more of having to "take on" pharmaceutical companies, insurance companies, gun manufacturers, etc. Andrew Yang propagated the lie that Amazon pays "literally zero in taxes". At a time when growing American jobs and industries is so key and working in a global economy is crucial, this probably isn't the right tact. Bernie Sanders is so out of touch with our economy he thinks that "today the worker in the middle of our economy is making no more money than he or she made 45 years ago."*
As good as Kamala Harris' performance was (see below), during the portion discussing gun control, she stated the following:
I will give the United States Congress 100 days to pull their act together, bring all these good ideas together, and put a bill on my desk for signature. And if they do not, I will take executive action and I will put in place…
Keep in mind, she is a sitting U.S. Senator so isn't she part of the problem she describes.
I will immediately, by executive action, reinstate DACA status…
She really likes Executive Action – something democrats, including Harris, has criticized President Trump for using and having too much power.
These debates are largely meaningless to me – regardless of party. Candidates get up there and start talking about things they would do if elected that, by the very nature of our government structure, they cannot do. They talk abut "passing laws" to do this or that. Hello, that's Congress' job – one that many of you hold or have held. And largely, you can't point to when you sponsored legislature in such a role about that very same topic about which you are so passionate. So GorT's third point would be the utter lack of an awareness of basic civics by these candidates demonstrated across both nights but mostly the second night.
In an attempt to create more of a train wreck, Chuck Todd didn't let me down and fired off not one, but two of his "down the row" "one or two word" response questions. Let me parallel my previous post with one from the second debate. To set the stage, here is the excerpt setting it up:
TODD: All right. We got to sneak in a break in a minute, but before we go, I'm going to go down the line here and I'm asking you please for one or two words only. All right, please.

(CROWD LAUGHTER)

MADDOW: Really.
Even the crowd, liberal leaning given the response to the candidates, finds this amusing and not serious. But Chuck Todd presses on being the intrepid host that he is with a question that asks, "what is that first issue for your presidency?" Remember, he has asked for "one or two words" about the "first issue" (that's singular for you grammatically impaired folks).
Eric Swalwell: "For Parkland, for Orlando, for every community affected by gun violence, ending gun violence"
14 words. But he did stick to a single issue. One should note – he is "ending" not "reducing"
Michael Bennet: "Climate change and the lack of economic mobility Bernie talks about."
11 words. Two separate issues. I'm not sure economic mobility is within the description of the job of the President or the Executive branch.
Kirsten Gillibrand: "Passing a family bill of rights that includes a national paid leave plan, universal pre-K, affordable day care, and making sure that women and families can thrive in the workplace no matter who they are."
35 words. Not sure all of those are a single issue – I see some economic issues, some education issues, and maybe some equal-opportunity/non-discriminatory issues there. But she'll interrupt me to add more, I'm sure. Between her and deBlasio, they are not demonstrating that New Yorkers are polite and can follow the rules.
Kamala Harris: "so, passing a middle-class and working families tax cut…DACA, guns, and…"
12 words. Chuck Todd cut her off before she kept going. What she didn't say was that her "middle-class and working families tax cut" would also include a tax increase on others and I don't think she's defined what she means by "middle-class" or "working families".
Bernie Sanders: "Chuck, the premise that there's only one or two issues out there…This country faces enormous crises. We need a political revolution. People have got to stand up and take on the special interests. We can transform this country."
39 words. Chuck Todd interrupted him twice and led in with a "first thing?" prompt. Bernie couldn't follow the directions. Plus, he is literally calling for a revolution. I wonder if he has a security clearance because I'm familiar with the questions I get for background checks for others pursuing / refreshing their clearances. At the end, clearly seeing that Bernie is off the reservation on this question, Chuck Todd waives it on and moves to Biden. I would argue that Sanders never gave a response to the question.
Joe Biden: "I think you're so underestimating what Barack Obama did. He's the first man to bring together the entire world, 196 nations, to commit to deal with climate change, immediately. So I don't buy that. But the first thing I would do is make sure that we defeat Donald Trump, period."**
50 words. And his answer doesn't fit into the question. The first issue that Biden is tackling upon being President is to defeat Donald Trump? Isn't that a pretty easy first issue since it would have…already….been….achieved?
Pete Buttigieg: "We've got to fix our democracy before it's too late. Get that right, climate, immigration, taxes, and every other issue gets better"
22 words. Kept it on point with a single issue. Although, I'd argue what he thinks "fixing" means and what really needs to be done are probably two separate ideas. The broken part is how modern politics has corrupted the three branches of government and the fact that we the people are allowing each branch to not do their Constitutionally mandated roles and overstepping into other branches' jobs.
Andrew Yang: "I would pass a $1,000 freedom dividend for every American adult starting at age 18, which would speed us up on climate change, because if you get the boot off of people's throats, they'll focus on climate change much more clearly."
41 words. Congress controls the pursue strings so his answer isn't something a President would do. "Freedom dividend" – he essentially failed to answer Chuck Todd's question on how this estimated $3.2 TRILLION investment in people would get covered by the federal government.
John Hickenlooper: "I would do a collaborative approach to climate change and I would pronounce it well before the election to make sure we don't reelect the worst president in American history."
30 words. Single topic. He struggled with this group and wasn't a commanding enough presence.
Marianne Williamson: "My first call is to the prime minister of New Zealand, who said that her goal is to make New Zealand the place where it's the best place in the world for a child to grow up, and I would tell her, girlfriend, you are so wrong, because the United States of America is going to be the best place in the world for a child to grow up."
69 words. Wow. Ummm. Yeah, I'm not even sure where to go with that one.
TODD: You guys were close with the short — at least it was shorter responses.

MADDOW: No, they weren't. Not at all.
At least Maddow is accurate with that statement.
GorT's prediction on who won't make it to the later rounds
Easy money:
Williamson – way out of her league and if she made the top 20, who are the other 5-ish that didn't make the cut?!?!
Yang
Hickenlooper
Bennet
On the Bubble:
Swalwell – not sure folks will react to his Millennial vs. Boomer attacks on Joe Biden & Bernie Sanders
Gillibrand – interrupting isn't good
Sanders – I don't think he did himself any favors and showed up as the yelling, cranky old man with very vague plans.
Leaving:
Harris – the clear winner in this night's debate
Biden – but I bet his numbers take a dive. I almost moved him to the bubble.
Buttigieg – did well, was calm but I think will eventually lose on experience and record
* Sanders' assertion comes close (but still wrong) if you take the average hourly salary in 1974 and 2019 and adjust for inflation (thank you, Jimmy Carter).
** Joe Biden is skating on thin ice with citing what he & Obama did with Climate Change. Biden was charged with overseeing the Recovery Act disaster. The Waxman-Markey act to do a cap-and-trade on carbon emissions failed to get out of the Democrat-led Senate. The next time the administration touched climate issues was in the second term when Obama signed the U.S. onto the Paris Climate Agreement. I could go on, but Mr. Biden is doing some revisionist history here.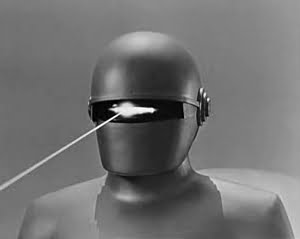 GorT is an eight-foot-tall robot from the 51ˢᵗ Century who routinely time-travels to steal expensive technology from the future and return it to the past for retroinvention. The profits from this pay all the Gormogons' bills, including subsidizing this website. Some of the products he has introduced from the future include oven mitts, the Guinness widget, Oxy-Clean, and Dr. Pepper. Due to his immense cybernetic brain, GorT is able to produce a post in 0.023 seconds and research it in even less time. Only 'Puter spends less time on research. GorT speaks entirely in zeros and ones, but occasionally throws in a ڭ to annoy the Volgi. He is a massive proponent of science, technology, and energy development, and enjoys nothing more than taking the Czar's more interesting scientific theories, going into the past, publishing them as his own, and then returning to take credit for them. He is the only Gormogon who is capable of doing math. Possessed of incredible strength, he understands the awesome responsibility that follows and only uses it to hurt people.