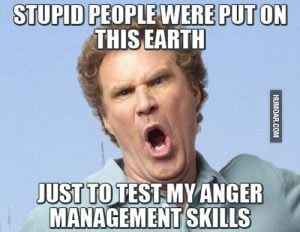 GorT and family just returned from a week-long vacation in Florida. It was a great time and probably the last family vacation before 1of3 graduates college and starts working. However, with two airline flights, a beach "resort", driving in Florida, and two major theme park areas included in the vacation, there was plenty of stupid to be found.* So I'm going to rattle off a list of stupid things that I hope all of us try to avoid – each one of these comes from experiences over the last 7 days.
When walking in a public area with heavy foot traffic flowing (i.e. airport concourse, theme park thoroughfare, etc.) do not stop suddenly in the middle unless it's an emergency. A real emergency – medical, etc. Have some consideration for those around you and move off to the side.**
If you don't have experience with or know roughly how to manage a self-checkout system of any sort – do not use one. And definitely not if you have a million items / orders and are not savvy about it. There are attendants to help…use them. It's why they are there and getting paid.
When driving, move to the right unless passing – on three lane highways, it's ok to stay in the middle near interchanges to allow for easier merge areas. Orlando area drivers have a big problem with this. Sure, there is the great debate of which state's drivers are the worse, but I think transient areas (DC metro, vacation spots, etc.) tend to have a bunch of clueless people, foreign drivers, etc. that contribute to it. Until we can filter these out, the debate is largely academic at best.
When your waiter or waitress arrives at your table with the food, please help out and listen for your order – sometimes, particularly in busy restaurants, they might not remember whose is which order. Ignoring them and continuing to chat only prolongs and exacerbates the situation.
Please and thank you go a long way – use them. Airline staff, hotel desk clerks, restaurant staff.
Not everyone needs to hear your cell phone conversation or listen to the music on your iPhone – have a sense of how loud you're talking, where you are standing to have a conversation (note: full on phone conversations in restrooms is gross…don't do it), and check the level of those earbuds (trust me, your hearing will thank you for it later in life)
For Ronald Reagan National Airport: maybe cover the signs in the terminal that indicate ground transportation, including parking shuttles are on the first floor so when passengers get down there only to find that they need to go up to the third floor they aren't pissed.
Don't get mad when you walk down an long aisle clearly marked as "TSA Precheck" only to get to the front and the TSA agent tells you you don't have TSA Precheck on your ticket.
Regardless of the amount of stupid seen – GorT and family had a great vacation. Totally crushed Universal Studios (both parks), Disney World Magic Kingdom, Epcot, and Hollywood Studios:
15 rides in Universal (most by all) in 1 day with about 22,000 steps taken (about 10-11 miles)
16 rides in three Disney parks in 1 day with about 26,000 steps taken (about 12.5 miles)
* I'm sure GorT and fam did some stupid things but I don't remember doing anything on this list. Case in point: I missed the exit for Universal Studios from our hotel – I didn't try to backup or cross 3 lanes of traffic to correct it. I kept going and let the navigation system redirect me.
** By the way, GorT refers to this in general as "poor walking navigational skills" – this applies to walking in shopping malls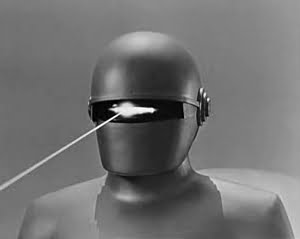 GorT is an eight-foot-tall robot from the 51ˢᵗ Century who routinely time-travels to steal expensive technology from the future and return it to the past for retroinvention. The profits from this pay all the Gormogons' bills, including subsidizing this website. Some of the products he has introduced from the future include oven mitts, the Guinness widget, Oxy-Clean, and Dr. Pepper. Due to his immense cybernetic brain, GorT is able to produce a post in 0.023 seconds and research it in even less time. Only 'Puter spends less time on research. GorT speaks entirely in zeros and ones, but occasionally throws in a ڭ to annoy the Volgi. He is a massive proponent of science, technology, and energy development, and enjoys nothing more than taking the Czar's more interesting scientific theories, going into the past, publishing them as his own, and then returning to take credit for them. He is the only Gormogon who is capable of doing math. Possessed of incredible strength, he understands the awesome responsibility that follows and only uses it to hurt people.