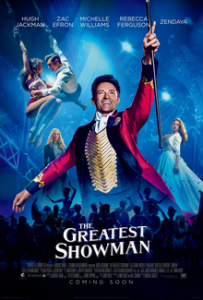 GorT and Mrs. GorT had a date night and grabbed dinner and saw "The Greatest Showman" yesterday. Put simply, it was really darn good. While this may be the last time we see a movie in a shopping mall's movie theater on a Friday evening (more on that below), the movie overcame the distractions. We both agreed that there seems to be a resurgence or growing interest in musical productions on the silver screen. A sample of some of the musicals over the last eight years:
Burlesque (2010)
Footloose (2011)
Les Misérables (2012)
Annie (2014)
Into The Woods (2014)
Jersey Boys (2014)
La La Land (2016)
Beauty and the Beast (2017)
The songs are excellent and well-sung including ones performed by younger actors towards the beginning of the movie. The costumes were impressive and the cinematography was fantastic. While it might lack some of the extraordinary use of set design and color that La La Land had, The Greatest Showman excels in every other category, including some very complicated and syncopated choreography. Multiple times during the movie, both GorT and Mrs. GorT felt like clapping at the end of the musical numbers – particularly those aligned with performances within the storyline.
Speaking of the storyline, it is safe (meaning spoiler-free) to say that it is a take on the embellished story of P.T. Barnum's life. It is different than the musical play* featured on Broadway in the early 1980s with several similar elements (Tom Thumb, Jenny Lind, etc.).
GorT would highly recommend seeing it in the theater but take note of what follows. It's starting to wind down it's theatrical run, I think, given the limited number of screens it is on in our area.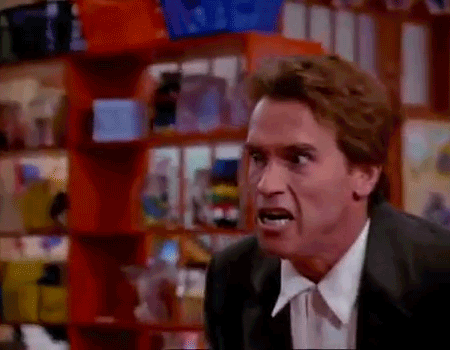 Ok, now to the experience in the theater: this might be the worst experience I've had in a movie theater. The was a group of young ladies in the 7th to 9th grade age range (probably on the younger end of that range) sitting two rows behind use. They talked and laughed with each other (not at the movie) throughout almost the entire movie. Several people around them shushed them several times but it continued. They, along with some others, couldn't figure out how to quietly open or eat from plastic-wrapped candy and popcorn bags (and seriously, couldn't movie theaters come up with quieter containers?) The person sitting directly in front of GorT and a woman sitting two seats to our right checked their phones – as in read emails and/or responded to texts – multiple times during the movie. Gee, thanks, I really appreciate the bright light from your phone shining in my face, dude. Finally, and unfortunately, it appeared that a family didn't quite do their research or overestimated their wards as what could only be a birthday party for a girl, maybe around 8 years old, marched into the theater. Mrs. GorT commented that this might not be the right movie for them. "I sure hope this isn't the sexy take on P. T. Barnum." Well, the events right around the conflict climax in the movie's plot set one or two of the girls off – there was crying and loud questions of the parents as to why certain things were happening. So, yes, Mrs. GorT and GorT are no longer attending weekend evening movies in shopping mall theaters.
* Volgi, 'Puter, and GorT's alma mater performed "Barnum" on stage early in our attendance there. GorT was on stage crew. Volgi either acted or was on crew as well.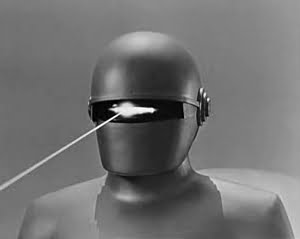 GorT is an eight-foot-tall robot from the 51ˢᵗ Century who routinely time-travels to steal expensive technology from the future and return it to the past for retroinvention. The profits from this pay all the Gormogons' bills, including subsidizing this website. Some of the products he has introduced from the future include oven mitts, the Guinness widget, Oxy-Clean, and Dr. Pepper. Due to his immense cybernetic brain, GorT is able to produce a post in 0.023 seconds and research it in even less time. Only 'Puter spends less time on research. GorT speaks entirely in zeros and ones, but occasionally throws in a ڭ to annoy the Volgi. He is a massive proponent of science, technology, and energy development, and enjoys nothing more than taking the Czar's more interesting scientific theories, going into the past, publishing them as his own, and then returning to take credit for them. He is the only Gormogon who is capable of doing math. Possessed of incredible strength, he understands the awesome responsibility that follows and only uses it to hurt people.