The Czar Has Nothing Today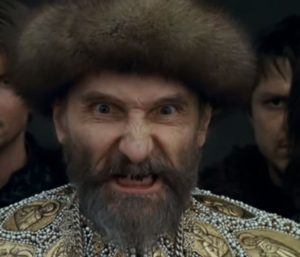 Today, or more specifically this morning, a crate arrived in our name at the Castle. Always fearing outlandish and ridiculous assassination attempts, the Czar had Dat Ho open it, just in case it exploded and killed someone. It neither exploded nor imploded, and in the crate was a cardboard box labeled, in ink, NIHIL. "What mean," implored Dat Ho in much better English than the Czar will credit him here.
"Nihil," we muttered, "Latin for 'nothing.' Go ahead and open it, Dat. But don't steal anything."
Carefully, little Dat—who is only twelve but is so crafty at stealing things of little consequenece that Czar would not mention it but for the fact we like to humiliate him as often as possible—lifted the lid off the cardboard box. The box was empty.
"Empty!" the Czar exclaimed.
"I steal nothing!" whimpered Dat, pointing to the box.
"No, little idiot, the box is empty—meaning the label was accurate. Truly accurate." The Czar lifted the box—from the look of it, an old shoe box dating back half a century—and examined it for clues. "Who sent this?"
"Maybe Nemo," suggested Dat Ho.
"Perhaps, but truly this was meant to arrive for the holidays. Someone sent us an empty box. Truly we have received nothing for the holidays."
"Where I put?" asked Dat, undoubtedly imagining himself stealing a wrist watch or crouton from our pocket.
"We shall put it with the others," the Czar said, and we returned to our quarters. Opening a closet door in the back, we placed it on a shelf next to other boxes, including a box of authentic Russian ничего (the Czar is a collector), some imported Italian niente, and some common Mexican nada, and a rare box of South African ohunkohun in a gorgeous crocodile skin and acacia box. Every so often, the Czar likes to take it out and look at it for a while."Is pretty," said Dat Ho, looking at the box.
"Are you still here?" we asked, as we often do in such circumstances.
"Some day, maybe I get nothing," grumbled Dat Ho as he left our study to swipe three spearmints from the front desk to serve as his dinner.
"You wish," we said as the door closed. We closed the door to the closet. What is such a collection worth, we wondered.

Божію Поспѣшествующею Милостію Мы, Дима Грозный Императоръ и Самодержецъ Всероссiйскiй, цѣсарь Московскiй. The Czar was born in the steppes of Russia in 1267, and was cheated out of total control of all Russia upon the death of Boris Mikhailovich, who replaced Alexander Yaroslav Nevsky in 1263. However, in 1283, our Czar was passed over due to a clerical error and the rule of all Russia went to his second cousin Daniil (Даниил Александрович), whom Czar still resents. As a half-hearted apology, the Czar was awarded control over Muscovy, inconveniently located 5,000 miles away just outside Chicago. He now spends his time seething about this and writing about other stuff that bothers him.