GorT stopped and just stared at the news report on TV last night as they were announcing that the Boy Scouts of America (BSA) are rolling out a plan to include girls in the program. I'm not sure exactly where I want to start with this so pardon me if this post wanders.
GorT is an Eagle Scout and enjoyed his time in BSA. And, until this decision, was seriously considering getting back into Scouting in some form now that his kids are largely out of the house….maybe as a Merit Badge counselor or advisor to a local Troop. Nope. Not anymore.
First, and rightfully so, the Girl Scouts of America are a bit peeved. As the Czar points out the BSA has done a better job developing a curriculum and marketing it than the Girl Scouts. I'm not going to dive into why as it would be pure speculation on my part and, in the end, we are here today.
Second, do I think a girl can achieve Eagle Scout? Absolutely. That's not the issue and for anyone that wants to call me sexist, you're missing the point. I fully believe that a young lady could earn every single merit badge that I earned and complete all the requirements I did in order to earn Eagle Scout.
Third, I predict that this will only introduce and cause more issues. While BSA is only starting at the Cub Scout level and has stated that the plan is to have single-gender or mixed-gender packs with single gender dens (small groups), I think that this move opens the door for pushing the borders of that framework. It is readily apparent to many how the social dynamic and therefore attention and focus changes within adolescents and teenagers in a mixed gender environment. GorT has a good friend whose son started at a private co-ed high school. After a week or so, the father asked the son how school was going. The son responded that the classroom environment was a mess – many of the girls were angling to get attention by the boys and many boys were acting up in order to impress the girls. All the while, the teacher was trying to teach but few were paying attention. The son said you could cut the sexual tension in the classroom with a knife. Yes, the BSA seems like they are intent on segregating the genders but I'll put a wager that this will be challenged shortly after implementation.
Which brings me to point four: the BSA's main claim for doing this is that families are busy and it's hard for parents to get their son to boy scouts and their daughter to girl scouts. Does anyone else see the flaws in this argument?
Are the Boy Scouts implying that parents are choosing to get their sons to boy scouts and their girls? Well, sorry, Suzie, we are just too busy to do that. Or do they think that families are too busy that they opt not to do either and by allowing girls they will entice those families to bring both children? Pffft. Wrong.
What happens when the local Cub Scout pack decides it is single gender – now you have to find a different Pack for your other child and then make the decision to put both your children in a different pack with a longer commute time and away from their local friends. Likely to happen? Nope.
Assuming their is a mixed gender Pack available, many times den meetings are on different nights as they frequently leverage the same meeting space. And if the two dens actually meet in different spaces, what happens when they choose the same day and time? Back to square one.
Finally, groups like NOW (National Organization for Women) issued a statement that "the Boy Scouts have a long history of discrimination" implying that they discriminate against women. It is the BOY Scouts and there is a GIRL Scouts organization. Has Toni Van Pelt, President of NOW, issued any statements about the Girl Scouts being discriminatory against boys? As a parallel, Title IX expressly allows single-gender social organizations (fraternities and sororities).
Do I believe some of the insinuations that have been made that the Boy Scouts, whose enrollment peaked in 1972, is making this move because of declining numbers? Yes, and it's completely the wrong move.
In GorT's world, BSA would have quietly worked behind the scenes with the GSA to enhance their programs and offer, in some form, a path with equivalent requirements to Eagle Scout. I'd even advocate for calling it the same, having the same merit badges, etc. At the same time, the BSA should review the GSA curriculum and see where it could leverage anything. Then, the national level organizations should encourage the district-level and down to work on joint events. For example, the Pinewood Derby could be open to both. Jamborees could be held (although, just imagine having to patrol for kids crossing between the girls and boys side of the campground) with joint contests and competitions. I believe this would only improve the BSA's image.
Also, the BSA should do a review of what has changed in society and within its programs since the 1970s. I think they've tried to react to the changing times with the creation of a STEM-like program and set of merit badges. I think there has been a growth and focus within society to have kids "do it all" – largely in sports. Mrs. GorT and I term some as "3-letter families" since their kid(s) is playing football (tackle or flag), soccer, and fall-ball baseball or lacrosse all in one season. BSA, and GSA for that matter, need to market what they offer and the benefits of Scouting better. And they need to not shy away from having a broad curriculum that some segments of society might attack – and advertise it. They have 137 currently active merit badges that range from teaching kids about civics to the proper handling and firing of a rifle, to cooking to nuclear science. There is goodness there. Then, they need to strengthen the local Packs and Troops. Provide guides – better guides – for parents to step up and feel confident in volunteering to run dens, packs, and troops. Emphasize that this isn't primarily a social gathering for people to serve desserts – there is a curriculum. Follow it.*
Yes, GorT is a bit fired up about this.
* This was GorT and 3of3's experience with the local Cub Scout pack. The adult leaders focused a significant time on what we were going to feed the kids at the monthly pack meetings. The leader was blown away by GorT's den which completed Bobcat, Tiger and Wolf badges (before we had enough) early each year while other dens were struggling to complete in a year.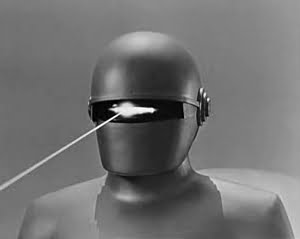 GorT is an eight-foot-tall robot from the 51ˢᵗ Century who routinely time-travels to steal expensive technology from the future and return it to the past for retroinvention. The profits from this pay all the Gormogons' bills, including subsidizing this website. Some of the products he has introduced from the future include oven mitts, the Guinness widget, Oxy-Clean, and Dr. Pepper. Due to his immense cybernetic brain, GorT is able to produce a post in 0.023 seconds and research it in even less time. Only 'Puter spends less time on research. GorT speaks entirely in zeros and ones, but occasionally throws in a ڭ to annoy the Volgi. He is a massive proponent of science, technology, and energy development, and enjoys nothing more than taking the Czar's more interesting scientific theories, going into the past, publishing them as his own, and then returning to take credit for them. He is the only Gormogon who is capable of doing math. Possessed of incredible strength, he understands the awesome responsibility that follows and only uses it to hurt people.