GorT is steamed.  Hopping mad.  P.O.'d  Really f**king angry.
This nation has a set of laws.  They should apply equally across everyone – regardless of race, religion, gender, sexual orientation, etc. etc.  So while we're fighting for equality, we should all keep that in mind, right?
Let me cite 18 U.S. Code § 793(f):
Whoever, being entrusted with or having lawful possession or control of any document, writing, code book, signal book, sketch, photograph, photographic negative, blueprint, plan, map, model, instrument, appliance, note, or information, relating to the national defense, (1) through gross negligence permits the same to be removed from its proper place of custody or delivered to anyone in violation of his trust, or to be lost, stolen, abstracted, or destroyed, or (2) having knowledge that the same has been illegally removed from its proper place of custody or delivered to anyone in violation of its trust, or lost, or stolen, abstracted, or destroyed, and fails to make prompt report of such loss, theft, abstraction, or destruction to his superior officer—Shall be fined under this title or imprisoned not more than ten years, or both.
It should be plainly clear by FBI Director Comey's statements this morning that Secretary Clinton violated this law.  This is the issue – plain and simple.
Thousands of other government employees and contractors live by this and many other statutes covering this material.
Others, including Bryan Nishimura by this very same administration, have been prosecuted and sentenced for similar offenses.
Secretary Clinton repeatedly lied, including statements under oath in front of Congress, when one considers what Director Comey divulged this morning.
By not prosecuting this crime, what message and precedent are we allowing to be set?  Can some government contractor set up an email server in her house and direct potentially classified emails to it?  Can another government employee read classified materials and ask a co-worker to strip the markings off of it and resend it on an unclassified email system?
No.
There is a reason for classifying material and information.  Maybe the rules and statutes are cumbersome or misaligned with current technology, but the rules are in place.  If people are bothered by these rules, work within the system to change them.  This is why Edward Snowden is a traitor and Hillary Clinton is a yet-to-be-prosecuted criminal.
One simple question for the Presidential debates this fall:
Secretary Clinton, do you believe that all U.S. laws and statutes apply equally to all citizens?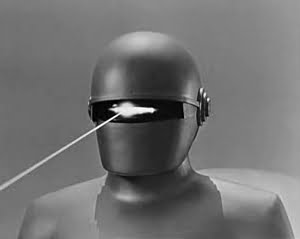 GorT is an eight-foot-tall robot from the 51ˢᵗ Century who routinely time-travels to steal expensive technology from the future and return it to the past for retroinvention. The profits from this pay all the Gormogons' bills, including subsidizing this website. Some of the products he has introduced from the future include oven mitts, the Guinness widget, Oxy-Clean, and Dr. Pepper. Due to his immense cybernetic brain, GorT is able to produce a post in 0.023 seconds and research it in even less time. Only 'Puter spends less time on research. GorT speaks entirely in zeros and ones, but occasionally throws in a ڭ to annoy the Volgi. He is a massive proponent of science, technology, and energy development, and enjoys nothing more than taking the Czar's more interesting scientific theories, going into the past, publishing them as his own, and then returning to take credit for them. He is the only Gormogon who is capable of doing math. Possessed of incredible strength, he understands the awesome responsibility that follows and only uses it to hurt people.