It Is Hard to Ignore Facts
GorT is stomping mad (sorry about crushing that small car, Dat Ho).  The "national discussion or conversation" around gun issues in this country has devolved into almost purely political rhetoric.  Aside from the theatrics that President Obama displayed earlier this week – crying because he was so emotional over this issue, yet didn't shed a tear at Ft. Hood, San Bernardino, Sandy Hook, etc., the President intentionally abused data to push an ineffective and likely unconstitutional action.  But many are so enthralled with it.  Meh.
The President said, "30,000 Americans die in gun violence every year".  The latest data from the Centers for Disease Control and Prevention reports 33,636 deaths relating to gun usage in 2013.  Of those, 21,175 (62.9%) were suicides – not killings of others.  Nothing in his executive orders or his weak (if any) attempts to spurn legal legislation would address this.
He also said, "And the constant excuses for inaction no longer do, no longer suffice." and, "I taught constitutional law, I know a little about this."  Fine, instead of starting by complaining about legislative things – new laws, new regulations – why doesn't the head of the executive branch, the branch of government responsible for the enforcement of the laws (if he remembers basic constitutional law), start enforcing the existing gun control laws.  Fact: federal gun prosecutions are down under President Obama.  If we're experiencing more and more gun violence incidents, "we are the only advanced country on Earth that sees this kind of mass violence erupt with this kind of frequency," then shouldn't the number of gun prosecutions cases go up?  If not, why doesn't the President look into why his branch of the government is failing on this?  This is something that constitutionally he can act on and, in fact, has the ultimate authority to oversee.  There are those that will spin the statistics and compare year-to-year but let me be clear here.  The data most frequently used for this argument is from the Transactional Records Access Clearinghouse at Syracuse University.
President
Fiscal Year
Number of Federal Prosecutions Filed
Lead Charge
Program
Agency
18 USC 922
18 USC 922, 924;
26 USC 5861
Weapons
ATF
Reagan
1986
752
1,374
*
2,131
1987
900
1,484
*
2,192
1988
1,415
2,079
*
2,676
Bush
1989
1,700
2,466
*
3,083
1990
2,191
3,199
*
4,045
1991
2,746
4,347
*
5,362
1992
3,011
4,934
6,629
6,187
Clinton
1993
2,994
4,603
5,900
5,627
1994
2,799
4,158
5,260
4,983
1995
2,745
4,051
5,035
5,160
1996
2,400
3,215
3,935
3,858
1997
2,520
3,236
3,789
3,619
1998
2,994
3,583
3,758
3,697
1999
3,652
4,371
4,948
4,282
2000
4,461
5,193
5,490
5,222
Bush
2001
4,939
5,703
6,507
6,019
2002
6,424
7,289
7,948
7,463
2003
8,293
9,532
10,432
9,699
2004
8,539
9,899
11,015
10,468
2005
8,066
9,422
10,219
10,715
2006
7,502
8,615
9,652
10,164
2007
7,394
8,383
8,919
10,065
2008
7,138
7,936
8,484
9,882
Obama
2009
6,894
7,703
8,188
9,655
2010
6,536
7,237
7,614
9,368
2011
6,483
7,164
7,465
8,861
2012
6,780
7,520
7,774
9,027
* The DOJ program which tracks weapons prosecutions not yet established.
You'll note a general rise in prosecutions (correlates with an uneven decline in gun deaths in the country) until 2008 at which point it declines with a possible uptick in 2012.  The Obama administration has claimed that it prefers its internal data which actually shows a 20% decrease in DOJ prosecutions for these cases.
What President Obama is doing is (a) political posturing and (b) dangerous.  The former because it will amount to nothing unless the executive branch agencies and departments actually enforce the laws, regulations, and orders.  Also because after stating that we need to get past the divisive language used by our government leaders, President Obama goes right into it.  After saying, "my goal here is to bring good people on both sides of this issue together for an open discussion" and "I think we can disagree without impugning other people's motives" he later states, "The reason Congress blocks laws is because they want to win elections."  The latter because he has set a precedent for presidents of either party to abuse Executive Orders when he or she doesn't agree with the constitutionally defined body in charge the laws of the land.  For any liberals out there, imagine if a future republican president attempted to used Executive Order powers to make abortions illegal – maybe saying that the executive branch will pursue murder charges for those involved.  It is a very dangerous precedent that does little to nothing to address the issues at hand.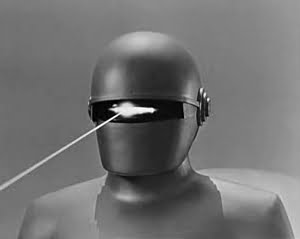 GorT is an eight-foot-tall robot from the 51ˢᵗ Century who routinely time-travels to steal expensive technology from the future and return it to the past for retroinvention. The profits from this pay all the Gormogons' bills, including subsidizing this website. Some of the products he has introduced from the future include oven mitts, the Guinness widget, Oxy-Clean, and Dr. Pepper. Due to his immense cybernetic brain, GorT is able to produce a post in 0.023 seconds and research it in even less time. Only 'Puter spends less time on research. GorT speaks entirely in zeros and ones, but occasionally throws in a ڭ to annoy the Volgi. He is a massive proponent of science, technology, and energy development, and enjoys nothing more than taking the Czar's more interesting scientific theories, going into the past, publishing them as his own, and then returning to take credit for them. He is the only Gormogon who is capable of doing math. Possessed of incredible strength, he understands the awesome responsibility that follows and only uses it to hurt people.