Hillary Clinton's email debacle isn't going to get any better nor go away anytime soon.  She has two things going for her in this disaster: (1) the media hates to report on her what would be – just about for anyone else – a career-ending story largely because the Democratic bench is so woeful and (2) while there is little love lost between the Obama administration and the Clintons, the administration is either toeing the party line with regards to investigating her or is so inept is hasn't yet….you pick.
GorT usually cringes at most of the NY Times reporting pieces (and definitely at the Opinion pages with the likes of Paul "democrat mouthpiece" Krugman) but diving into a piece from the New Yorker is I-think-I've-thrown-up-in-my-mouth-a-bit.  Given the titanium stomach (and body, in general) that GorT has, we will press on brave readers.
Jeffrey Toobin authored this article in yesterday's New Yorker online.  I doubt that Mr. Toobin has ever held a security clearance let alone worked with classified data.  His reliance on his reading of the late Sen. Moynihan's book seems to be his primary source.  He doesn't directly reference any other sources nor does he indicate that he spoke with Sen. Moynihan regarding this subject prior to his death in 2003.  It gets worse (no surprise), as President Obama signed into effect Executive Order 13587 in October 2011 that sets up offices and efforts to reform the protection of our classified networks and the sharing of classified data.  This E.O. includes setting up an office that shall "consulting with the Departments of State" and others regarding the sharing of classified data.  Furthermore, President Obama also issued Exceutive Order 13526 in 2009 that states in its preamble:
This order prescribes a uniform system for classifying, safeguarding, and declassifying national security information, including information relating to defense against transnational terrorism.  Our democratic principles require that the American people be informed of the activities of their Government.  Also, our Nation's progress depends on the free flow of information both within the Government and to the American people.  Nevertheless, throughout our history, the national defense has required that certain information be maintained in confidence in order to protect our citizens, our democratic institutions, our homeland security, and our interactions with foreign nations.  Protecting information critical to our Nation's security and demonstrating our commitment to open Government through accurate and accountable application of classification standards and routine, secure, and effective declassification are equally important priorities.
Given that we've established that Mr. Toobin is operating under 12 year old information at best, let us review the contents of his piece:
As the world now knows, Clinton used a private e-mail address and server to conduct official business as Secretary of State. That in itself was certainly unwise and perhaps a violation of State Department policy.
No, not perhaps.  It is a clear violation of the State Department's policy that was in place since 2005 which warned officials against routine use of personal email accounts for government work
The more significant question now, though, is whether Clinton improperly passed national-security information—that is, classified information—over this private, non-secured connection. Her answer to that question has evolved. Clinton first said, "I did not e-mail any classified material to anyone on my e-mail. There is no classified material." More recently, she said, "I did not send nor did I receive material marked classified." Clinton's quasi-official defenders at Media Matters have seized on this distinction as well. They argue that she is in the clear because she never disclosed information that was designated as classified.
First, "evolved" is a kind word for this situation – others might prefer changed her defensive tactic when faced with mounting evidence.  Second, while maybe a more significant question the most significant question, in GorT's mind, is, "Why is the Secretary of State treating communications are likely sensitive at best, classified at worst in a manner against her own Department's guidelines, in a manner that is contradictory to her reasoning (multiple devices are hard), and, on the surface, appearing callously ignorant of the potential for disastrous outcomes?"  Should we consider such a person eligible for the Presidential candidacy?
Classified information is supposed to be defined as material that would damage national security if released. In fact, Moynihan asserted, government bureaucracies use classification rules to protect turf, to avoid embarrassment, to embarrass rivals—in short, for a variety of motives that have little to do with national security.
That's a wonderful story and he tells it so well.  However, the subject at hand is documents, emails, satellite images are not items that are "protecting turf" or "embarrassing rivals".  These are operational and intelligence based content that is CLEARLY subject to appropriate classifications.
It's not only the public who cannot know the extent or content of government secrecy. Realistically, government officials can't know either—and this is Hillary Clinton's problem. In investigating only a small portion of her e-mails, government investigators have already flagged more than three hundred that are potentially classified. They will surely find more.
It's not for the public to know the extent – that's why it's called "secret" or "classified".  Idiot.  And government officials who deal with this data day-in and day-out are very familiar with the requirements around classified material.  If you have a clearance you are required to receive an annual refresher on security classification, which includes how and why you classify material and how and why to protect it.  Secretary Clinton, unless she's above the law, should have been refreshed annually.
Criminal violations for mishandling classified information all have intent requirements; in other words, in order to be guilty of a crime, there must be evidence that Clinton knew that the information was classified and intentionally disclosed it to an unauthorized person. There is no evidence she did anything like that.
Well, that's not exactly true.  Maybe, strictly speaking she won't get prosecuted on criminal charges but there are other federal laws besides the one that he references.  Ones that put an onus on people involved to protect classified materials (see parts of this post).
Could this issue cripple Clinton's candidacy? Certainly it's no help, especially for a candidate who has had trouble earning the trust of voters. Still, it's hard to imagine that voters will be focussed on this issue six months from now, to say nothing of Election Day, which is more than a year away. But it may not be too much to hope that if Clinton does surmount this controversy and take over in the Oval Office, she will recognize, as Moynihan did, the folly of our system of over-classification and take steps to reform its obvious excesses.
Yes, it absolutely could cripple and end the Clintons in the Democratic party.  Yes, voters could still be cognizant of this issue – does this guy think that the GOP candidate won't bring up Benghazi or this email scandal in the full election if she is their opposition?  What kind of weed is Mr. Toobin smoking?  This is a matter we should be concerned with – the callous attitude that she is displaying (reference her odd joke about "at least Instagram messages disappear automatically") should be worrying for any voter when considering who the next President should be.  Especially at a time where our country is dealing with threats like these.  Let me parallel Mr. Toobin's ending:
It may not be too much to hope that liberals will recognize the need for the compartmentalization of sensitive information with regards to our government's intelligence and policies pertaining to foreign powers and terrorists.
For more, read the Czar's excellent post here too.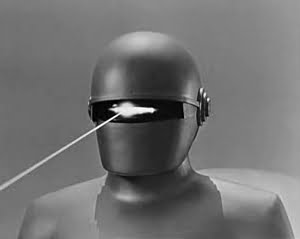 GorT is an eight-foot-tall robot from the 51ˢᵗ Century who routinely time-travels to steal expensive technology from the future and return it to the past for retroinvention. The profits from this pay all the Gormogons' bills, including subsidizing this website. Some of the products he has introduced from the future include oven mitts, the Guinness widget, Oxy-Clean, and Dr. Pepper. Due to his immense cybernetic brain, GorT is able to produce a post in 0.023 seconds and research it in even less time. Only 'Puter spends less time on research. GorT speaks entirely in zeros and ones, but occasionally throws in a ڭ to annoy the Volgi. He is a massive proponent of science, technology, and energy development, and enjoys nothing more than taking the Czar's more interesting scientific theories, going into the past, publishing them as his own, and then returning to take credit for them. He is the only Gormogon who is capable of doing math. Possessed of incredible strength, he understands the awesome responsibility that follows and only uses it to hurt people.