Driverless Cars Are an Inevitability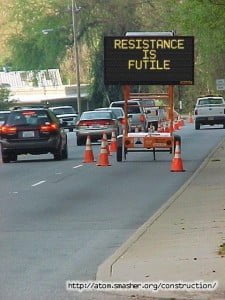 Resistance is futile.
Ok, maybe it's not the Borg coming to take over the joys and pains of driving oneself, but GorT believes that if you look at the trends in technology and society, we will have mainstream driverless cars within the next 10 years.
I should probably lay out some definitions for the terms I'm using so I'm being clear.  By "driverless cars" and "self-driving cars", I refer to automobiles that can navigate roadways with no direct human interaction, aside from choosing a destination and maybe some options (scenic route, quickest route, via 14 Starbucks drive-thrus, etc.).  These cars will likely have some "manual" mode but in designated areas human driving will not be allowed.  Seriously.  These areas are probably densely populated areas, high-speed interstates, and state highways.  More rural and lesser traveled roads will not have the mandatory tag.  These latter areas might not even be capable, depending upon the technology required, of supporting the autonomous driving mode.  Finally, by "mainstream", I mean that it won't be in one or two "test markets" – it will be in most major cities within the United States.
So why does GorT buy into this?  For three basic reasons: (1) the statistics build a burning platform begging for the problem to be solved, (2) the trends in technology have set up the possibility to be in the near term, and (3) the trends in society are propelling us towards this solution.
One could look at various surveys and statistics but they largely trend the same way as far as safety in transportation.  For this post, I refer to numbers in a CNN Money post that cites the following deaths per billion miles traveled:
Motorcycles:  217 deaths
Cars & Trucks: 5.75 deaths
Commuter trains & Amtrak: 0.47 deaths
Buses: 0.14 deaths
U.S. Commercial airlines: 0.06 deaths
The difficult problem to solve here is the motorcycles.  It is unlikely that anyone will target autonomous motorcycles.  It largely defeats the reason many people purchase one and they're rather fuel efficient to end.  Options might include banning them from certain areas, certain roads, or during certain times.  And just note, for a later point in this post, that this isn't restricted to the United States.  China experiences around 275,000 and India around 238,000 driving deaths of the estimated 1.2 million driving-related deaths annually.
I'm going to wrap the second two points together as they are intertwined.  Technology and society have reached a point where much of what we do, particularly for the Millennial generation, is interconnected.  Think about the social media and extend that to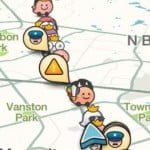 Waze, the popular navigation app that crowd-sources traffic information from its users who freely are kind-of-anonomously sharing with others where they are and how fast they are driving.  Or FourSquare for sharing with others in that community where you are (or at least your device is) at a particular time.  We are becoming more and more connected, especially with the "Internet of Things" movement growing – automated homes, appliances, and others.
Imagine what a work commute could be like with autonomous cars: drink your coffee without spilling it when slamming on brakes because the traffic ahead of you has slowed for no apparent reason; read the paper or actually start your day when you get in the car rather than 40 minutes later* when you walk in the door of your office; or participate in the latest game made for commutes that takes a Niantic approach and gamifies the drive time.
The 55 to 70 mph speed limits will likely give way to higher rates in autonomous zones as computers could control the spacing and safety margins much better than humans.  Some estimate that it could increase freeway capacity by six to eight times.  Cars would likely evolve into lighter weight, more fuel efficient vehicles as the safety cages protecting drivers won't be as crucial.
There is a real opportunity for the United States to take the lead on this.  It would likely create a large number of jobs and an explosion in new and innovative technology.  Referencing my early deferred point: the United States isn't the only country with this problem.  It's a global one.  Other countries are starting, as is the United States, but we can't get mired down.  I'm hoping we see some real progress on this in the next decade here are at home.  At least until we can get such thing of supercar.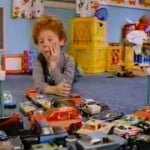 * Studies estimate that the average U.S. commuter spends over an hour and a half in the car per day.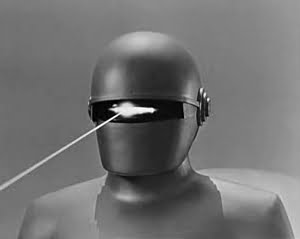 GorT is an eight-foot-tall robot from the 51ˢᵗ Century who routinely time-travels to steal expensive technology from the future and return it to the past for retroinvention. The profits from this pay all the Gormogons' bills, including subsidizing this website. Some of the products he has introduced from the future include oven mitts, the Guinness widget, Oxy-Clean, and Dr. Pepper. Due to his immense cybernetic brain, GorT is able to produce a post in 0.023 seconds and research it in even less time. Only 'Puter spends less time on research. GorT speaks entirely in zeros and ones, but occasionally throws in a ڭ to annoy the Volgi. He is a massive proponent of science, technology, and energy development, and enjoys nothing more than taking the Czar's more interesting scientific theories, going into the past, publishing them as his own, and then returning to take credit for them. He is the only Gormogon who is capable of doing math. Possessed of incredible strength, he understands the awesome responsibility that follows and only uses it to hurt people.