The Czar is pleased to have hosted the 2014 Gormogonicon party at his dacha.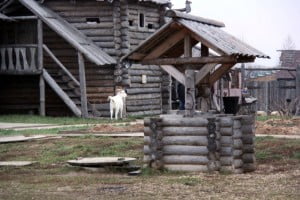 The dacha was colorfully decorated for this year's theme, which was Booze and Chews (which narrowly beat out Hug and Chug).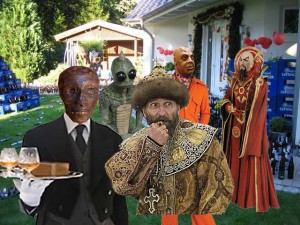 Mr. and Mrs. Mandarin, plus his youngling, were happy to arrive moments before Mr. and Mrs. Ghettoputer. The Czar was happy that Sleestak was able to accompany them, since it gave Inetef-Te-Henqet, our mummy butler, someone to not speak to. We may have purchased too much beer, but it seems 'Puter was a little off his game last night due to the long drive he endured.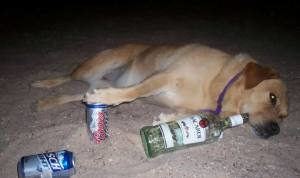 Also in attendance was the 'Puters' dog, Sadie, who totally fit in well with the Czar's kennel.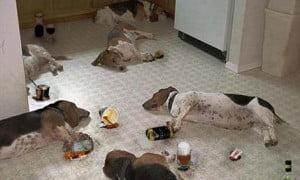 Here's the Czar's kennel.
The menu, lovingly described by Juvenal, consisted of:
Applewood smoked-grilled chicken
Three different kinds of kiełbasa, grilled and smoked
Prosciutto-wrapped asparagus, which alas the Czar overcooked because he spent too much time garnishing Mrs. 'Puter's gin and tonic with a custom lemon thing.
Corn casserole
Authentic potato pierógi
Acorn squash
Cinnamon apple pie
Jellyfish and eggs
Sow's udders stuffed with milk and eggs
Boiled tree fungi with peppered fish-fat sauce
Sea urchins with spices, oil and egg sauce
Fallow deer roasted with onion sauce, rue Jericho dates, raisins oil and honey
Boiled ostrich with sweet sauce
Turtle dove boiled in its feathers
Roast parrot
Dormice stuffed with pork and pine kernels
Flamingo boiled with fresh dates
In addition to cooking for these honored guests, the Czar was pleased to tend bar as well. The 1870 recipe was used for Manhattans, which flowed quite copiously. Because the Civil War is over, and bourbon is now available again, the Czar opted for switch rye whiskey with Corner Creek bourbon. Many of the ladies opted for Hot Apple Pie shots.
Then the party really got hopping as other special guests arrived. Ghettoputer will be providing you those details shortly.

Божію Поспѣшествующею Милостію Мы, Дима Грозный Императоръ и Самодержецъ Всероссiйскiй, цѣсарь Московскiй. The Czar was born in the steppes of Russia in 1267, and was cheated out of total control of all Russia upon the death of Boris Mikhailovich, who replaced Alexander Yaroslav Nevsky in 1263. However, in 1283, our Czar was passed over due to a clerical error and the rule of all Russia went to his second cousin Daniil (Даниил Александрович), whom Czar still resents. As a half-hearted apology, the Czar was awarded control over Muscovy, inconveniently located 5,000 miles away just outside Chicago. He now spends his time seething about this and writing about other stuff that bothers him.