W.H. Auden, orphans, a convict, Arcadians & Utopians, and the locus of evil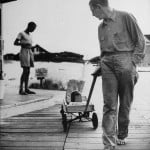 The NYRB runs a great essay by Edward Mendelson on Auden, who seems to have been at pains to conceal that he was often a profoundly good man. Here's the lead:
W.H. Auden had a secret life that his closest friends knew little or nothing about. Everything about it was generous and honorable. He kept it secret because he would have been ashamed to have been praised for it.
Auden on Fire Island, 1946.
And later, this acute point.
By refusing to claim moral or personal authority, Auden placed himself firmly on one side of an argument that pervades the modern intellectual climate but is seldom explicitly stated, an argument about the nature of evil and those who commit it. On one side are those who, like Auden, sense the furies hidden in themselves, evils they hope never to unleash, but which, they sometimes perceive, add force to their ordinary angers and resentments, especially those angers they prefer to think are righteous.
On the other side are those who can say of themselves without irony, "I am a good person," who perceive great evils only in other, evil people whose motives and actions are entirely different from their own. This view has dangerous consequences when a party or nation, having assured itself of its inherent goodness, assumes its actions are therefore justified, even when, in the eyes of everyone else, they seem murderous and oppressive.
Still later:
When Auden reviewed Isaiah Berlin's The Hedgehog and the Fox in 1954, he offered an alternative to Berlin's antithesis of hedgehogs who know one thing and foxes who know many. Improvising on Alice in Wonderland, he contrasted strong-minded Alices, confident in their moral rightness, with weak-minded Mabels, content to think as everyone else thinks. His antithesis had more to do with moral self-knowledge than with knowledge of the world.
Berlin was Auden's lifelong friend, and Auden was demurring gently at the Alice-like qualities he sensed in Berlin's book. One especially memorable statement by Berlin of the Alice-like views that Auden distrusted occurs in his later essay on Turgenev (printed, among other places, in these pages). Berlin wrote: "The dilemma of morally sensitive, honest, and intellectually responsible men at a time of acute polarization of opinion has, since [Turgenev's] time, grown acute and world-wide." Whatever Berlin intended, a sentence like this encourages readers to count themselves among the sensitive, honest, and responsible, with the inevitable effect of blinding themselves to their own insensitivities, dishonesties, and irresponsibilities, and to the evils committed by a group, party, or nation that they support. Their "dilemma" is softened by the comforting thought of their merits.
I've eschewed copying all the marvelous anecdotes and Auden's own words. Please read the whole thing.

Don't ask impertinent questions like that jackass Adept Lu.