More proof everyone in 1970s Hollywood was coked to the gills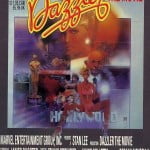 Off io9's list of the ten weirdest Marvel movies never made, via Debby Witt, here's prima facie evidence that everydamnone in Hollywood from 1971–1986 was melting their septa with Bolivian marching powder. To wit:
Long before Fantastic 4: Rise of the Silver Surfer, a $20 million version of the Silver Surfer nearly got made. Producer Lee Kramer, fresh off Xanadu, wanted to cast Olivia Newton-John in the lead role. Paul McCartney was signed up to do the music. Said Kramer at the time, "We're going to make an epic picture on the scope of 2001: A Space Odyssey with the kind of soundtrack that that film had, only using contemporary rock and roll." And Stan Lee drafted an outline for the film, that borrowed heavily from early 1970s blaxploitation films. At one point, the Surfer gets captured by a tall man in fancy clothes named Sweet-Daddy Wisdom, who says, "Ol Sweet-Daddy's gone and caught himself the world's choice prize. He's captured the ultimate honky."
Silver Surfer wasn't the only disco-era Marvel production that failed to get off the ground. When the sonic-powered mutant [Dazzler] first debuted, she was supposed to have a movie franchise, with music from Casablanca Records, hot off Casablanca's success with Thank God It's Friday. The Dazzler film would have starred Bo Derek, and studios were in a frenzied bidding war, until Derek insisted her husband had to direct. Jim Shooter wrote a film treatment, in which KISS fights the Village People, Rodney Dangerfield plays four separate characters, and fire-clad warriors ride into battle on unicorns. At one point, Dazzler, the Avengers and Spider-Man travel forward in time to a dystopian New York, where Cher and Donna Summer are rival witch-queens, battling for control over the city. The entire film treatment is here.
Enjoy the rest of the list
here
. Oh, and 'Puter wants you to know he has
The Ultimate Honky
on his business cards.

Don't ask impertinent questions like that jackass Adept Lu.