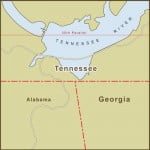 "He who controls the spice controls the universe!" Baron Vladimir Haarkonen
There is a 200 year old dispute between Tennessee and Georgia with regard to their border. A survey in 1818 placed the border one mile south of the agreed upon 35th parallel. This dispute is a big deal because as a consequence the Tennessee River remains controlled by Tennessee at its bend. Furthermore 30,000 citizens of free Tennessee would fall under the thrall of Atlanta, the Chicago of the south. The issue is important to Georgia because Atlanta and its sprawling, fungating and metastasizing suburbia and exurbia are starved for water and the Tennessee river is flush with water, so much water that the water that Georgia needs (and is largely provided to the Tennessee river via Georgian tributaries) would never be missed.
For 200 years, Georgia has tried to rectify the situation, and for 200 years, the great state of Tennessee has said, fuck you. The history and politics of the situation is absolutely fascinating, and Dr. J. recommends this Georgian apologia regarding the issue. It encapsulates the issues, albeit making a case for the Georgian side of the issue. The Tennessee point of view regarding the issue is that Georgian sprawl and poorly planned growth brought it upon itself.
That being said, this situation has the potential to end badly, as a consequence Gulio Douhet, a self styled airpower expert and columnist at the New York Times (Dr. J.'s always believed the two were mutually exclusive, however Mandy may have some input with regard to this) posted a column over at Grand Blog Tarkin discussing the role of air power in a potential future border conflict between Tennessee and Georgia. His was a response to this post by an alternate strategist who, for different reasons, predicted Tennessee victory in a future conflict.
In it Douhat writes:
Georgia's land offensive made initial progress, but bogged down as bands of primitive East Tennessee hill people ambushed and harried Georgian columns and logistical trains. Tennessee had wisely invested in only minimal land forces, relying on the inherent savagery and fighting prowess of the Appalachian tribesmen to sufficiently slow the Georgian advance until airpower could prove decisive. Regular Tennessee National Guard forces prepared a defense-in-depth in the outskirts of Chattanooga, allowing the Georgians their initial prize while working with the tribesmen to make them pay for it. However, this defense would not have held for long in the face of a renewed Georgian offensive if airpower had not won the day.
It gets better:
On September 1, 2014 the decisive moment came in a pre-dawn raid against the Georgian capitol of Atlanta. 4 C-5, 4 C-130s, 25 A300s, 13 A310s, 20 757s, 6 777s, 1 MD-10, and 18 MD-11 delivered nearly 5500 tons of ordnance onto the city and surrounding suburbs. Tennessee's attacks concentrated on the downtown financial districts as well as on wealthy outlying areas. The municipal capacity of Atlanta was overwhelmed, with fires continuing to burn for days.
The timing of the strike was no accident. Coming 150 years to the day after the burning of the city of Atlanta by a band of Northmen, this raid proved a political masterstroke, shattering the will of Georgia's political class to continue the conflict. Georgia responded with a desultory attempt to bomb Knoxville, but apart from gutting a few square blocks of the University of Tennessee, the attack had no serious strategic impact. Their homes in ruins, soldiers in Georgia's advanced ground elements began to desert and mutiny against their officers.
But his is a response to Exum's polemic which is far more colorful and entertaining, and includes these bon mots:
The War Between the States ended almost 150 years ago, but the Georgia state senate is making threatening noises against its neighbor. It should think twice. Occupying Iraq and Afghanistan is a cakewalk compared to the hellscape that southeast Tennessee poses for an invading army.

I have nothing against (most parts of) Georgia. Growing up, though, my mother would drive my sister and me south on I-75, ostensibly to watch a Braves game or visit our cousins, but really to show us the horrors of life beyond the green mountains and valleys of our native southeast Tennessee…

I grew up in the 1980s, when

Red Dawn

was the favorite film of every freedom-loving boy in Tennessee, and my best friend Henry and I spent way too much of our early years thinking through various ways we would defend our homes against the inevitable communist horde. Georgia has compelled me to consider something similar.
Dr. J. has taken this tack. Were he in charge of the great state of Tennessee, he'd bring in Douhat and Exum as his Air Force and Army heads respectively.