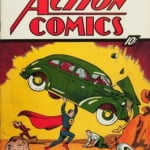 Seventy-five years ago today, Kal-El, the Man of Steel, the Last Son of Krypton was born.
Dr. J. being the comic book geek of old wanted to salute the diamond anniversary of Action Comics #1. While the issue date is June '38, everyone knows the release date of periodicals often proceeds the official month of release. It helps preserve shelf life, Dr. J. suspects.
While Dr. J., along with the little medstudent, has been a bigger fan of Batman than Superman. This is probably no fault of Superman's but he is harder to write stories for. He's essentially invulnerable, nigh all-powerful, and given his Kansas upbringing, incorruptable (save due to exposure to red kryptonite). Batman, on the other hand is mortal, struggles against his inner demons, and through hard work is essentially the pinnacle of the human ideal, and he can take out every chess piece on the board, including Superman.
Superman is only as good as his writers, and there are several incarnations that Dr. J.'s particularly enjoyed:
Christopher Reeve – At a time when America needed a shot of idealism, Christopher Reeve played Superman with a very light touch. He was baseball, apple pie and Chevrolet all rolled into one without being corny or sanctimonious. Superman and Superman II are the only ones worth mentioning. Dr. J. did not like his portrayal of Clark Kent, however. His was the most bumbling and foolish of the different incarnations.
Tim Daly – His voice acting in the New Adventures of Superman had a warmth to it. Clark Kent was mild-mannered without being a castrated wuss or a bumbling fool, and his Superman had a quiet patient confidence. When George Newburn took over the role in Justice League, Supes became a little darker, I suspect scarred from being co-opted by Darkseid's guys at the end of his show's run, and he was limited to being the League's muscle than its leader. His vaunted Kryptonian intellect was always overshadowed by Batman's intelligence, leadership ability and checkbook (who built the Watchtower?). In this incarnation, even Wonder Woman wanted a piece of the Bat.
John Byrne's Man of Steel – This incarnation was the most human of the modern incarnations. Clark Kent was who was real. Superman was his side job. Jonathan and Martha were both alive and played valuable roles in his upbringing, and playing football (while holding back) rather than being the waterboy yielded a hero who was more realistically the result of his Kansas upbringing than his Kryptonian ancestry.
Tom Welling – This pick may make folks heads explode, but there's something about watching the process of the boy fall down and pick himself up multiple times in the process of becoming the man that was great about Welling's portrayal. He's the reluctant hero. If Superman is likened to a messianic figure, and there is a lot of literary criticism to this affect. Tom Welling's portrayal is that of Jesus in the Garden of Gethsemane as he's coming to terms with his new found powers and his alien heritage.
These are the Supermen who have not quite lived up to that name:
That dude from the SuperFriends. Great Scott!
Brandon Rauth – He was more SuperEmo than Superman, but some of that was scripting and direction rather than acting chops.
Dean Cain – Again, a better and more interesting Clark than Superman. The show was appropriately named Lois and Clark, not Superman.
Nevertheless, Happy Birthday Big Guy!